This evening, Nintendo revealed all of the details of what will be included in the Nintendo Labo: VR Kit coming out for the Switch next month. There are some cool innovations they decided to put in here, ranging from a blaster to a camera. Hopefully, we'll get a set to put together and review for you in a couple of weeks, but until then, here's the full list of games that will come with the set as well as some photos of what they'll look like.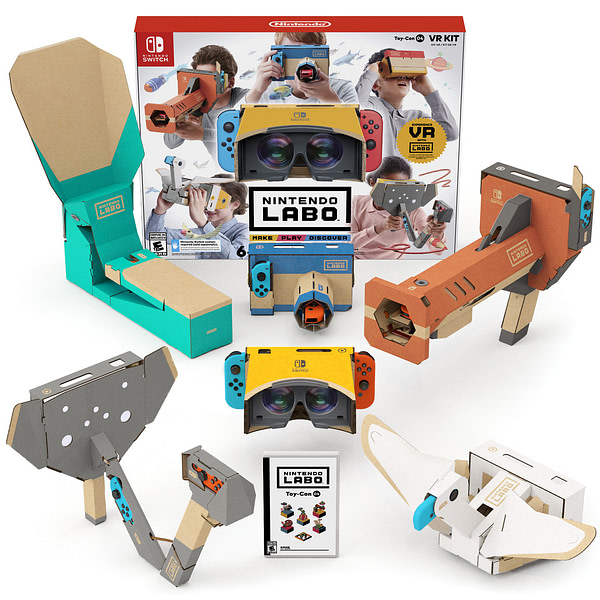 Ocean Camera (Toy-Con Camera): Dive into the deep blue virtual sea and complete objectives like taking photos of sea life. The ocean is full of surprises.

House Camera (Toy-Con Camera): Interact with the strange creature living in the house – which some people may recognize from the Nintendo Labo: Variety Kit! – and complete missions by taking photos in its mysterious home.

Marble Run (Toy-Con Elephant): Try to complete physics puzzles by using various objects to guide marbles through rings. You can even create puzzles of your own to challenge friends and family.

Doodle (Toy-Con Elephant): Create colorful 3D artwork by moving the trunk of the Toy-Con Elephant through the air, using various in-game tools and styles to bring your creations to life. Once finished, show off your masterpieces on the TV by docking your Nintendo Switch. An additional multiplayer game lets you take turns drawing and guessing each other's drawings.

Bird (Toy-Con Bird): Soar through the sky on a bird's back, collecting items and helping baby birds hatch along the way. Players flap the wings of the Toy-Con Bird to fly and simply tilt it to turn.

Bird Dash (Toy-Con Bird, Toy-Con Wind Pedal): Compete in timed challenges by racing through checkpoints as you fly through the sky. The Toy-Con Wind Pedal is used in conjunction with the Toy-Con Bird to deliver an extra boost of speed, while also sending a surprisingly strong puff of air toward the player that enhances the sense of flying.

Blaster (Toy-Con Blaster): Battle an alien invasion and giant bosses in an on-rails experience that requires sharp reflexes and a keen eye.

Kablasta (Toy-Con Blaster): Challenge a friend to competitive hippo feeding. Yes, hippo feeding! Fling different types of fruit toward the hippos to lure them to your side of the pool and score the most points.

Hop Dodge (Toy-Con Wind Pedal): As a frog, jump as high as you can on an ever-growing stack of balls while avoiding obstacles and heading soccer balls. The wind resistance from the Wind Pedal will make you feel as though you're actually experiencing a breeze.

VR Plaza (all Toy-Con creations): Enjoy 64 bite-sized games and experiences in VR Plaza, including platformers and puzzlers. Many of these experiences can be enjoyed using only the Toy-Con VR Goggles and Nintendo Switch system.