Nintendo's Smash Bros and Splatoon 2 Tournaments will End at E3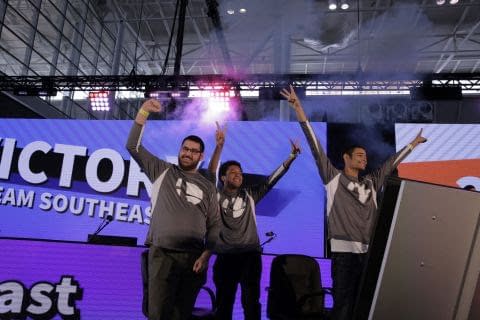 The winners of the Splatoon 2 North American Inkling Open 2019 and Super Smash Bros. Ultimate North American Open 2019 tournaments were crowned at PAX East this weekend.
The four-player team FTWIN nabbed the final win for the Splatoon 2 final, while the three-person team of Wrath, Devonte, and Poltergust took the win in the Super Smash Bros. Ultimate finals. Poltergust won the final match with Yoshi.
However, the North American Open tournaments are not the end of the Nintendo esports season, as the winners of both the Smash Bros and Splatoon 2 tourneys will hit Los Angeles for the Global Championships during E3 this year. The team-based Super Smash Bros. Ultimate World Championship 2019 3v3 and the Splatoon 2 World Championship 2019 tournaments will take place on Saturday, June 8, in Los Angeles.
Both events will feature players from North America, Europe, Japan and Australia/New Zealand.
"We will showcase some of the best players of some of our biggest games on a huge international stage," said Doug Bowser, Nintendo of America's Senior Vice President of Sales and Marketing. "Whether you're cheering for a favorite player or you just love to watch top-level competitive play, you'll see how these events highlight the Nintendo community and bring people together."