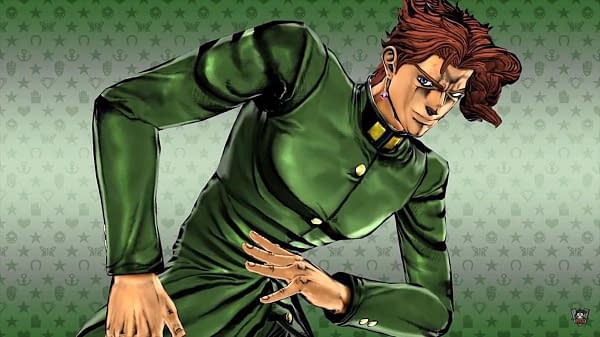 JoJo's Bizarre Adventure: Last Survivor continues to look awesome, if the newest footage is any indication.
A new character trailer for Stand user Noriaki Kakyoin just debuted. It's got plenty of footage of Kakyoin's Stand Hierophant Green kicking butt and taking names. He's not as cool as Jotaro Kujo, but that's just something you have to deal with as a JoJo fan, after all.
JoJo's Bizarre Adventure: Last Survivor was announced in December 2018. It's an arcade-onlythird-person battle royale game. It can support up to 20 players at a time in a single match. It'll be based around Parts 3 to 5 from the anime and manga series. Current playable characters include the following: Jotaro Kujo, Noriaki Kakyoin, Jean-Pierre Polnaerff, DIO, Josuke Higashikata, Koichi Hirose, Rohan Kishibe, Giorno Giovanna, Bruno Bucciarati, and Guido Mista.
Before you get too excited, here's the bad news. You won't be able to play JoJo's Bizarre Adventure: Last Survivor outside of Japan. That's true for now and may be in the future as well.
It's silly, since we've had most of the console versions of the JoJo games that debuted on consoles come West. Hopefully, skipping into arcades in Japan and wowing players, JoJo's Bizarre Adventure: Last Survivor can get the console version it deserves. With a new part of the anime coming down the line, it would make the perfect tie-in.
Enjoyed this article? Share it!