One More Racing Game for the Road as We Try Antigraviator
Nearing the end of our last day at PAX East, we made our way over to the Iceberg Interactive booth to try out a couple different games. The first one on the list turned out to be the last racing title of the con with Antigraviator. This is basically one of those racing games where you tend to go at high speeds that are so fast, your brain has trouble playing catch-up. It reminded me a lot of the Star Wars Episode I: Racer game for the N64, where everything is just flying by you and the only things you're even recognizing is the track, your car, and whatever scenery may lay in the distance. And while that's super cool to experience as a player, it becomes quickly detrimental as I have a habit of crashing.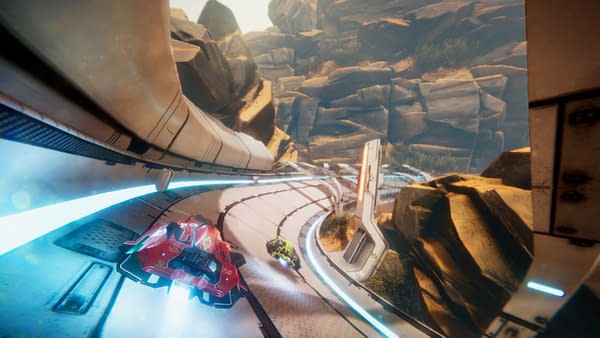 There's no real status bar on your car, per se, you just see a flashing red tone all around the screen until your car crumbles into pieces from hitting the sides of the barricade too much. You then rematerialize almost exactly where you died and now have to speed back up to catch up. The demo we tried out was good, but you can tell it's one of those games where some stuff needs to be fixed or ironed out. Antigraviator is being released sometime this year for PC, PS4, and Xbox One.