 Chris Ahrnsbrak writes for Bleeding Cool from PAX South,
Take equal parts anime and strategy game and the desire to kill your friends with the cutest little bloodthirsty killers you'll ever see, and you'll get Krosmaster Arena, Arkama's board game based on the popular Dofus MMO and Wakfu anime.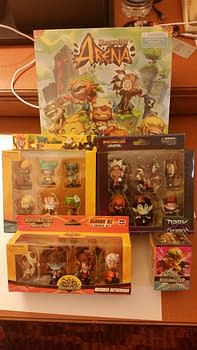 The basic box ($80) comes with eight figures and stat cards that can be mixed and matched from team to team, with no specific team composition necessary. The base object is simple enough: your team needs to outlast the other team, attack for attack. But it gets tricky beyond the basics– each team consists not just of the basics you pick up in the starter set, but in the add-on sets you can buy to enhance your own teams, well over 130 individual figures that can be mixed and matched with unique powers and skills of their own to appeal to every playstyle. Melee fighters, ranged attacks, summoners– all styles are well represented within the myriad figures.
In the demo we played thanks to Japanime Games well-run booth, we noticed the learning curve was a bit steep at first– learning not just the basics of the game and the attack style, but the order of play as well– but once we got through the initial couple of rounds, everything fell into order quite nicely. Play from then on was swift, with pixie healers duking it out with tofu sparrows and ghastly water bomb-throwing monsters. The dice included with the game all come stamped with the specific markers showing what result is created (hit, dodge, shield, and so on) and give a better indicator of success or failure rather than the standard D6. A full game lasted about an hour, with fits of giggles thrown in each time one of us summoned a tofu bird to attack with a kiss or a fresh buffalo to jump in and bite our characters.
While the dual-sided, dual-map game board and terrain were gaming-quality cardboard, the figures themselves are a huge selling point. Tiny figures in the super-deformed, semi-chibi style abound and enrich the game play, adding a dimension of bloodthirsty cuteness to the already pun-filled names (a mad bomber named Bad Aboum, or the teleporter that struck with surgical precision named Anna Tommy). Therein lies the hook– in order to add to your collection or team, you'll have to buy more figures ($15-$20 for a pack of 4, themed sets of 6 figures for $45, or blind box single figures for $8). But there is an upside– all figures, from the basic box to individual theme packs, also come with codes able to unlock the same figures in the online version of the board game. Additional expansion sets and boards are available to add to or change up the game, and new figures continue to be added to the line. For more information on Krosmaster Arena and to become masters of the Krosmoz, check out the website at japanimegames.com .
Enjoyed this article? Share it!