"Persona 5 Royal" DLC Will Feature Protagonists From Earlier "Persona" Games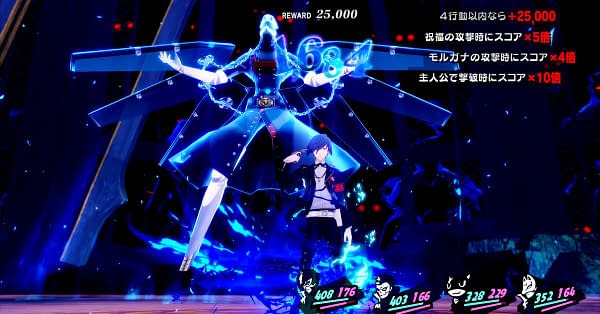 Persona 5 Royal is going to be an exciting release for Persona fans. During a special gameplay stream, Atlus revealed some clues about the upgraded version of the 2016 RPG. Some of its planned DLC battles will include showdowns with the protagonists from Persona 3 and Persona 4.
The Challenge Battles will unfold in the Velvet Room, and appear to include both the Persona 3 and Persona 4 heroes and their Personas, respectively Thanatos and Izanagi. It's not completely clear what connection these battles will have to the story (if any), though the answer is probably nothing. These will likely end up being fun battles with no connection to the lore.
Later on in the stream, Atlus revealed that players can also opt for Persona Q2: New Cinema Labyrinth skins. There's a wealth of new content to wade through in the stream, though it's in Japanese, of course. If you haven't been keeping up, Persona 5 Royal is an enhanced version of Persona 5. It isn't coming to Switch, but you'll be able to snag it when it comes Westward in 2020 for PlayStation 4.
Of course, given that it's coming out in Japan on October 31 (Halloween gaming, anyone?) we'll be able to get our fix of what's really in the game early.
If this is your first blush with the Persona series or just Persona 5, this will definitely be a game to keep an eye out for. There's a ton of content in Persona 5 Royal that you'll want to wade through. As additional info comes out about the game, we'll make sure to keep you posted. In the meantime, you might want to go through Persona 3 and Persona 4 first. They're classics, after all. Going back earlier in the series can't hurt, either. You haven't lived until you've met Mara. Don't know who that is? We won't ruin it for you, don't worry.