With some seriously impressive early buzz and high marks, the upcoming Sony Playstation title "God of War" is a much anticipated game. Just this evening, the official Playstation twitter account posted a "less than 24 hours" message, which revealed plans for a countdown of some sort starting at 7:30 pm PST.
Less than 24 hours to go.

Join us as we count down to the game's launch, starting at 7:30 PM PT at https://t.co/6WGSKHicJz. pic.twitter.com/kWxTla218R

— PlayStation (@PlayStation) April 19, 2018
The message included an image, which says the countdown will happen at the live.playstation.com website.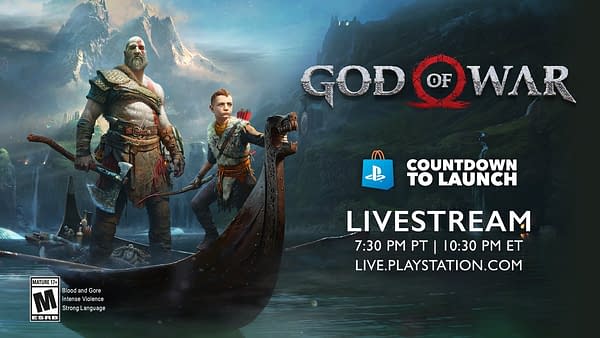 The website currently has a vid stream featuring all kinds of God of War goodies, including some BTS stuff with this title's composer Bear McCreary, as well as gameplay footage previously released.
Another tweet from Playstation today had a map of Midgard via Mimir's Vision AR app:
Midgard's map is in your hands with the Mimir's Vision AR app: https://t.co/KFkvE1TtcX #GodofWar #LostPages pic.twitter.com/95yjivjOvE

— PlayStation (@PlayStation) April 18, 2018
We do know that this game will focus primarily on the fact that Kratos, voiced this time around by Stargate favorite Chris Judge, is a father again. From the official PR for the title developed by Santa Monica Studio:
As mentor and protector to Atreus, a son determined to earn his respect, he is forced to deal with and control the rage that has long defined him while out in a very dangerous world with his son.
There will be three special editions of God of War: the Stone Mason Edition, the Collector's Edition, and the Digital Deluxe Edition. The Stone Mason Edition comes with several physical items, including the base game in a SteelBook case, a 9-inch statue of Kratos and Atreus that was created by Gentle Giant, 2-inch carvings of the Huldra Brothers, a horse, and a troll, an exclusive lithograph, a cloth map, a stone mason's ring, and a keychain of Mímir's head that talks. There is also various downloadable content, including an exclusive shield skin, in addition to an armor set and another shield skin for Kratos, a PlayStation 4 dynamic theme, a digital artbook, and God of War #0 by Dark Horse Comics, and is only available in the United States and Canada.
The Collector's Edition comes with many of the same items, minus the ring, the keychain, the 2-inch carvings of the horse and troll, and the Stone Mason Edition's exclusive shield skin.
The Digital Deluxe Edition comes with all of the digital content, minus the Stone Mason Edition's exclusive shield skin. U.S. and Canadian customers also receive a Kratos and Atreus pin for pre-ordering the Digital Deluxe Edition. Pre-orders at select retailers will receive three skins for Kratos' shield, while pre-orders from GameStop or EB Games will also receive a "Luck of Ages XP Talisman", granting increased XP gain, increased Hacksilver gain, and increased ability to trigger Perks.
Needless to say, hopes are high for this chapter of Kratos' tale, and the wait will soon be over when the game hits in less than 20 hours
Enjoyed this article? Share it!