Pokémon Sword and Pokémon Shield for the Nintendo Switch have been seen as underdone games by many for a variety of reasons, including but not limited to limited postgame replayability, an oversimple plot, and, of course, Dexit, the unofficial name for the removal of many Pokémon from the game in favor of… well, very little tradeoff.
But Austin John, a YouTuber with the channel handle Austin John Plays, has found an exploit in the game's (and the console's) settings which make the game extraordinarily simpler to complete fully.
This exploit, shown in his video below, only takes the use of a single Wishing Piece item in the area where you want the Max Raid to spawn. You don't even need a subscription to Nintendo Switch Online for this exploit to be used! The process is quite simple, believe it or not.
Go to where you want to spawn the Max Raid. Make sure you are offline and that a) autosave is off, and b) the text speed is slow (this second point is less important for players experienced with this exploit). Save the game manually here.
Use the Wishing Piece and answer "yes" to the save prompt, but go to the home screen of your Nintendo Switch before the next text box goes beyond the second line of savegame text. By now you should know if the Raid Den is glowing red or purple.
If the Raid Den is red, close the game entirely and then reopen it. Repeat these steps until you get a purple Raid Den.
If the Raid Den is purple, you can simply open the game back up. Save here as well.
What this does is ensure you get a strong Pokémon in this Raid Den, possibly even a Gigantamax Pokémon. But wait, there's more!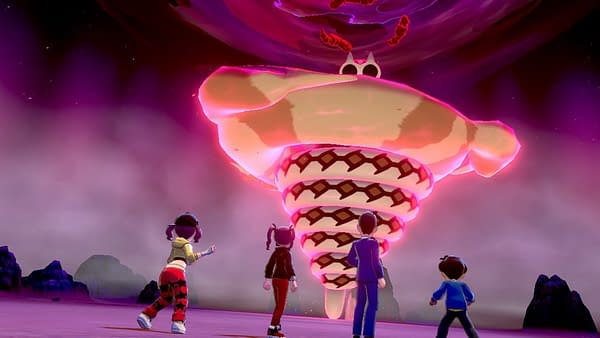 At this time, the next steps to ensure that you have a Gigantamax Pokémon are:
Make sure you are not online. This will create a lobby otherwise and since people won't be entering this lobby with you, it'll hurt a lot of their experiences raiding; plus, it might alert Nintendo to your actions.
open the Max Raid. You'll accrue 2,000 Watts (currency that is great for continuing this entire process!).
If the Max Raid is not of the Pokémon you want, click "Invite Others". Otherwise, you can just exit the Max Raid and save your game. You've done it!
If you haven't achieved your goal yet, after clicking "Invite Others", once the timer starts, click the Home button on your Nintendo Switch, go to your System Settings, make sure the clock is not being auto-set by the Internet, and then move the date forward by a day.
Go back into your game and quit the Max Raid. Repeat the second step forward until you've got the Pokémon you want. You'll probably accrue a ton of Watts along the way, so you'll definitely be more than able to do this again, and again, until Nintendo eventually patches it.
Because you also have autosave turned off, you can repeat the Max Raid any amount of times until you actually catch the Pokémon you have worked so hard towards getting. Congratulations, you just got a Pokémon!
So, it generally takes more like twenty minutes for this to occur, though sometimes it can happen pretty quickly. When I tested this out yesterday, it took me about 45 minutes to get a Gigantamax Duraludon, and I had my calendar set to February 10th when all was said and done. Also, there's really no telling when, or even if, Nintendo will patch this up. There may not even be a way for them to do this.
To be frank, I am not sure that I totally recommend this method of engaging in Max Raids. But if you're really struggling to catch a ridiculously-tough Pokémon in Max Raids, this could help, especially if you don't have nor want Nintendo Switch Online access.
What do you think? Is this methodology ruining Pokémon Sword and Pokémon Shield? Have you tried this? Did it work out for you, or are you still struggling with it? Let us know!
Enjoyed this article? Share it!