Pokémon TCG Opening: V Battle Deck — Rayquaza Vs. Noivern
One of the most interesting changes to the Pokémon TCG in 2021 is their handling of decks. In the past, we'd see multiple theme decks released per year with the featured card taking the form of a holographic version of a normally non-holo card from a recent expansion. For example, November 2020's them decks featured shattered foil versions of the Charizard and Drednaw from Sword & Shield – Vivid Voltage respectively, offering an incentive for completionists to pick these products up. Now, the Pokémon TCG has reimagined theme decks into V Battle Decks which show up in two forms (single packs and a double pack) which include a brand new Black Star Promo card with artwork that cannot be pulled anywhere else. The Pokémon TCG sent me their new V Battle Deck products to show Bleeding Cool readers, so let's crack these open and determine who should pick these up.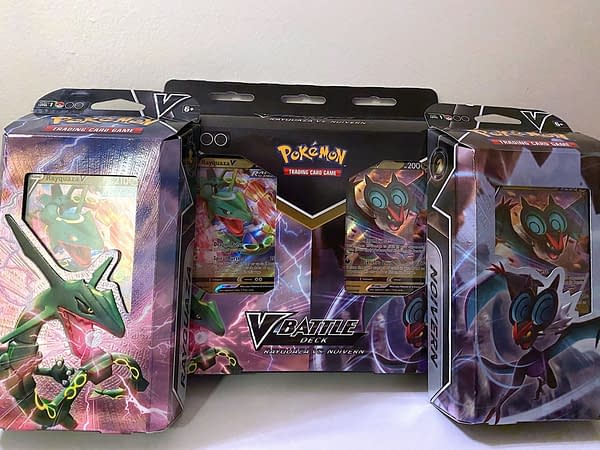 The three Pokémon TCG products you see above include the Rayquaza V Battle Deck, the Noivern V Battle Deck, and the V Battle Deck – Rayquaza vs. Noivern. First, I'll break down the difference between the individual decks and the V Battle Deck – Rayquaza vs. Noivern. If you get the double deck, you're getting both Black Star Promos of Noivern V and Rayquaza V featured in the singles as well as everything that comes in each of the singles. The major incentive of getting the joint version rather than the singles is that the joint version comes with two copies of a holographic Trainer card that the single versions do not include.
Now, completionists should note that the bonus holographic Trainer card is the same Shining Fates Professor Juniper that was available in the Victini vs. Gardevoir V Battle Deck. That card isn't available to pull in this holographic form in Shining Fates and is exclusive to these double V Battle Decks. However, be aware that if you did get the Victini vs. Gardevoir V Battle Deck, this box will include the same version of Professor Juniper.
When cracking open these decks, you'll get:
a ready-to-play V Battle Deck (60 cards each)
Rayquaza V or Noivern V (both for the VS. deck)
large metallic coins
deck box
Quick Guides to unlock the strategies within 2 single-player playmats
reference cards
Damage counters
guide to upgrading your decks
A code card for the Pokémon Trading Card Game Online
And, of course, the VS. version will offer Pokémon TCG players double of each item.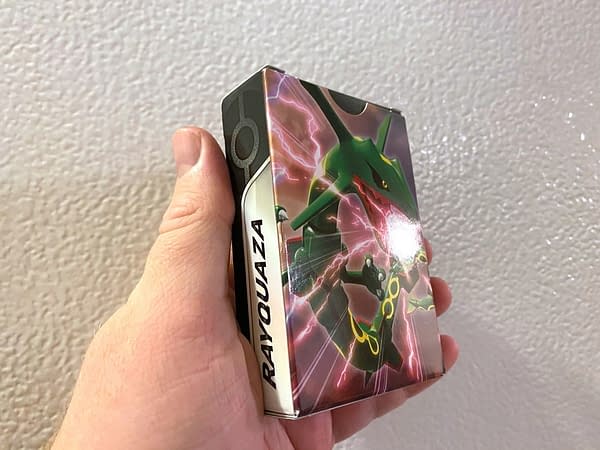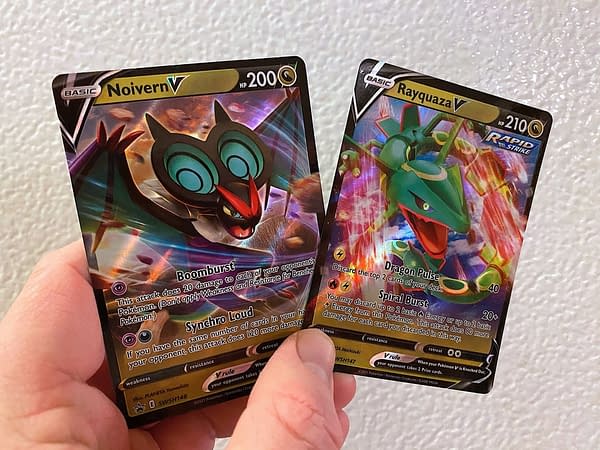 Now, here is the big question. I cover this hobby from a collector's perspective, with my main goal to help completionist collectors build their master sets and to show artwork lovers some of the history of the Pokémon TCG. This product is obviously aimed at players, but is there something that collectors can get out of this? I personally believe yes. The two promo cards are exclusive to these decks and are needed to complete your SWSH Black Star Promo collection. These two each give a spin on these Dragon-type cards that appeared in Sword & Shield – Evolving Skies, and I personally think this Rayqauza may even look better than that set's standard V. While I'm not a sealed collector myself, the products would look beautiful in a sealed collection. The V Battle Deck – Rayquaza vs. Noivern is smooth and sleek while the individual decks are textured, as you can see in the photograph below.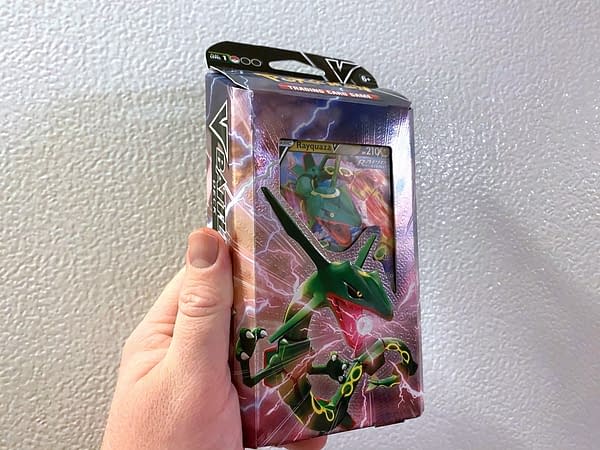 As far as ways to improve this product, there is just one thing I'd change. I personally would like to see the double-deck enhanced with different holographic Trainers each time rather than a double, though. While this is a minor quibble, I think keeping these cards fully exclusive to the VS. decks would be the way to go.
Perfect for players and also essential for collections, these V Decks are a major improvement over Pokémon TCG's long-running theme decks. I hope we see this trend continue!