Popplio, Rowlet, & Rayquaza Available In Pokémon Masters EX Update
DeNA Co., Ltd. and The Pokémon Company have announced the addition of new content and new events to the team-based mobile game, Pokémon Masters EX. This includes a new story event and an update made to the Main Story, as well as the ability for players to add Alolan sync pairs Elio & Popplio and Selene & Rowlet to their teams.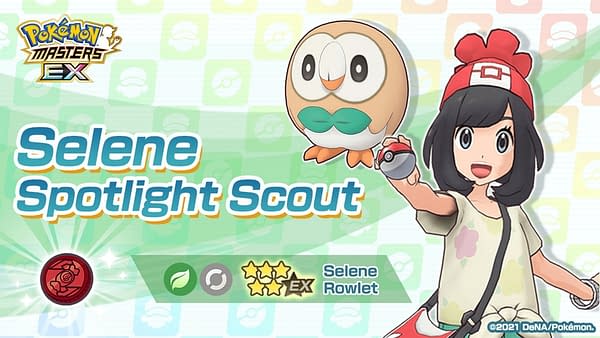 Here are the full details on the Pokémon Masters EX update:
Elio & Popplio! This Water-type support sync pair will be able to use the move Sing to put opponents to sleep, which will allow them to benefit from their passive skill and restore HP during a successful status move. It will also be able to use to move Sparkling Aria once Popplio evolves into its ultimate form of Primarina. They will be available starting tonight, April 16th at 11 PM Pacific time until May 1st, 2021 at 10:59 PM Pacific time.
More Alolan fun with Selene & Rowlet, a Grass-type strike sync pair. They will be able to us Spirit Shackle to restrain opponents, which can be used together with their passive skill, which can charge the move gauge when an attack is successful against a restrained opponent. This team is available right now and will run until May 1st at 10:59 PM Pacific.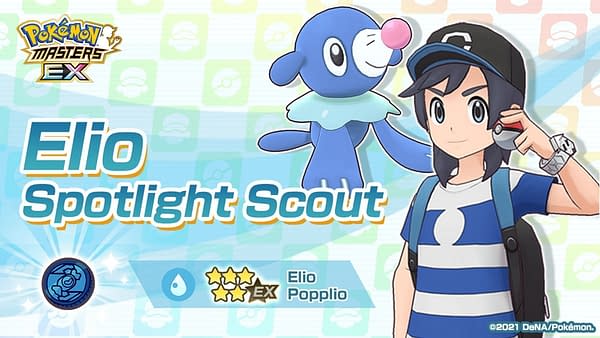 Pokémon Masters EX also had new event announcements to make:
Trails on the Isle: This story event will be available for those who have completed Chapter 1 of the Main story starting now and running until May 1st at 10:59 PM. The event will feature the arrival of Selene and Elio on Pasio and will feature them battling the Alola trails of Lana, Kiawe, and Mallow. Rewards for completing the event will include Support Move Candy Coins and up to eight 5★ Guaranteed Scout Tickets. Players who log-in during the event can claim up to 1,000 Gems.
An addition to the Main Story has been made with Chapter 28. Team Break will invade the Pokémon Masters League venue in this chapter, and DeNa included the following teaser: "Players won't want to miss seeing how Lear reacts and grows through this confrontation.
If you missed the chance last time, you will have another shot at adding the sync pair of Zinnia & Rayquaza to your teams for the Legendary Event – The Dragon That Rules the Sky, available from now until May 17th at 10:59 PM Pacific in Pokémon Masters EX.