Review: Playing Moss is Like Playing with a Dollhouse, in the Best Way
[rwp-review-recap id="0"]
Polyarc's PSVR platformer Moss is nothing if not goddamn adorable. The game has you control the adventurous mouse Quill on an epic adventure, but you do so as her mysterious Watcher. As the Watcher, your job is to help Quill solve puzzles, fight enemy monsters, and see her safely on her journey by moving large objects. Quill might do the fighting but you are the brains.
That almost co-op set up, where players take on two roles at once, is something of an indie favorite. Brothers made it famous, after all. But while you control Quill, you always watch the events from the outside. Every stage is set up with the player behind a static fourth wall. Sure, you can walk around and get closer to it, but the scene remains just that. Moss is an intersection between a play and a massive dollhouse because of where it places the player.
Having a static third person point of view is an interesting proposition for VR, but it actually works incredibly well because you can sit or stand as you like. You don't need to worry about motion sickness, because movement in-game is entirely organic. There's no teleporting, no strafing, no walking around using joysticks that will inevitably cause your brain to give up and go home. Moss exists as an external story separate from ourselves, and that is true in terms of story and gameplay.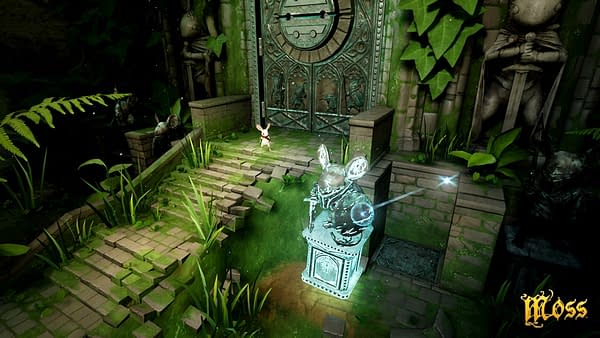 If Quill isn't cute enough for you, then the fact that the game is told as a storybook should do it — which explains the static perspective.
The gameplay controls are simple, making it easy to control the action with a set of PlayStation Move wands or a Dualshock 4 controller with minimal differences. Buttonmapping on both is pretty intuitive, which is great seeing as Moss does not come with a tutorial. It really doesn't need one, anyway. Moss is a story before it is a game, and that is reflected in every aspect of its design.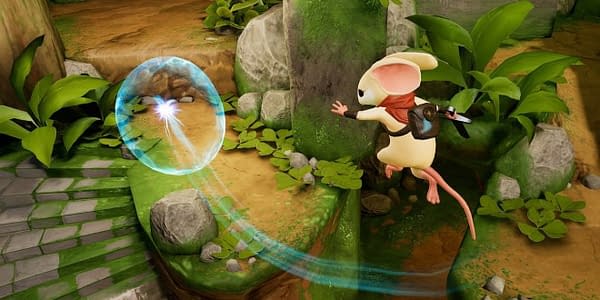 If you need a PSVR game to fall in love with, Moss is that game.
[rwp-review-ratings id="0"]
[rwp-review-form id="0"]