PSVR May Be Getting an Upgrade with New Motion Controller Patents
A bit of VR news dropped this week, showing that Sony has filed a brand-new patent for some VR hardware that will most likely be incorporated into the PlayStation's unit, the PSVR.
Sony Interactive Entertainment has filed a few new patents on motion controllers (which you can see the designs of below) that are what we could best describe as a full upgrade from any design currently on the market. As you can see, the straps are designed to fit with the hand more than the wrist, the thumbstick is meant more for a full radial turn than just directional, and the button/trigger makeup has been greatly improved.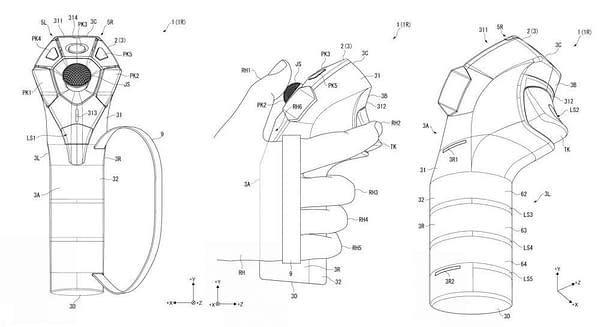 A link to the patent can be found here if you wish to Google translate it and look at the finer details of the language, but the short version to all this is that we're probably looking at the next wave of PSVR gear. The design itself looks really cool and makes us wish we already had these to try out. It'll be interesting to see if this is simply an upgraded set of controllers for the gear, or if this is just phase one with a new helmet and other additions coming in the near future.