Rare Super Secret Battle "No. 1 Trainer" Pokémon Card On Auction

An extremely valuable Gem Mint 10 "No. 1 Trainer" card from the Super Secret Battle series of tournaments for the Pokémon Trading Card Game is up for auction and it ends on July 9th! Allegedly, only seven of these cards were ever issued, making this one of the rarest Pokémon cards to ever be put into circulation.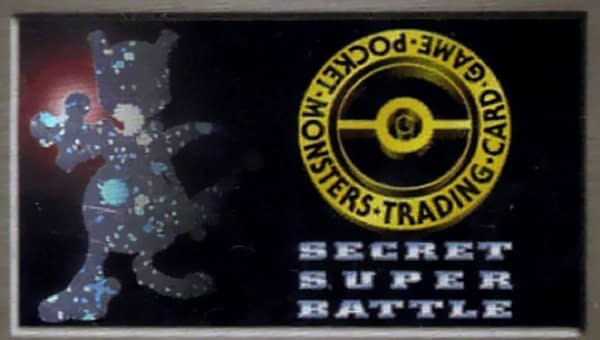 Issued during the Super Secret Battle circuit back in 1999, only seven have been confirmed to exist and of those seven, only six of them are graded at a perfectly-pristine grade of Gem Mint 10. By contrast, the Pikachu Illustrator card, widely known as the most expensive card in the history of the game, has nineteen cards certified by PSAcard.com. This card, the No. 1 Trainer card, could fetch upwards of $100,000 at auction.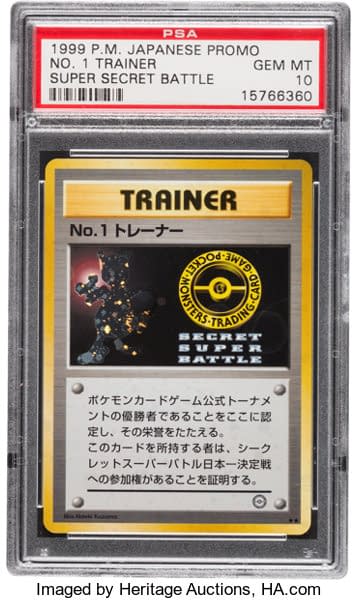 The card, with text in Japanese, is translated as such:
The Pokémon Card Game Official Tournament's champion is recognized here, and this honor is praised. By presenting this card, you may gain preferential entry into the Secret Super Battle.
Luckily for those with the funds and the aspiration to own such a memorable piece of Pokémon franchise history, Heritage Auctions, based in Texas, is auctioning off this pristine trading card. You can find that auction here. At the time of writing, this card has fetched $15,500 on the auction block and it ends on July 9th..
Pokémon as a franchise has its gems. From First Edition Base Set Charizard all the way to Shining Tyranitar from Neo Destiny, cards from the Pokémon Trading Card Game have their flair and charm. If you want to get ahold of one of these pieces of history, we recommend you look into the auction going on at Heritage right now, before that history is bought up.