[rwp-review-recap id="0"]
At long last, Overwatch has finally landed on Nintendo Switch. After what seemed like a constant waltz of "will they or won't they" with Blizzard following a leaked Overwatch Switch case on Amazon, the official announcement game. Busy, casual, and downright lazy Overwatch fans across the world rejoiced.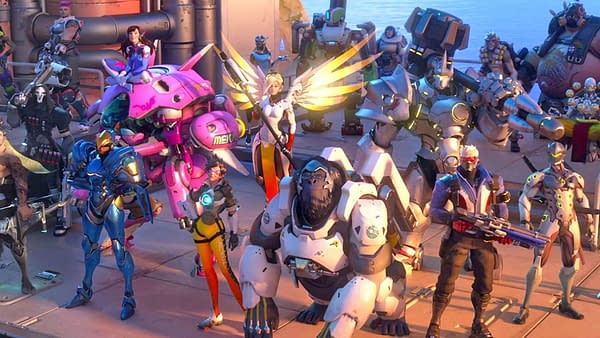 Sure, the graphics and performance would obviously take a hit, the Switch in handheld mode wouldn't be the most optimal way to play, and the physical edition wouldn't even get a cartridge. But you know what? None of that really matters, because it's still extremely fun to play in handheld mode. And that, dear readers, is what I've wanted to do in some capacity ever since I started playing the game. Is the Nintendo Switch port of Overwatch worth the cash? If you're anything like me, absolutely.
I'm certainly not what you'd call an Overwatch pro, but I love to get a few games in pretty regularly. But I'm also extremely busy. I had primarily been playing on PlayStation 4 at the end of long work days for a couple of years, but as my responsibilities piled on, my Overwatch time waned.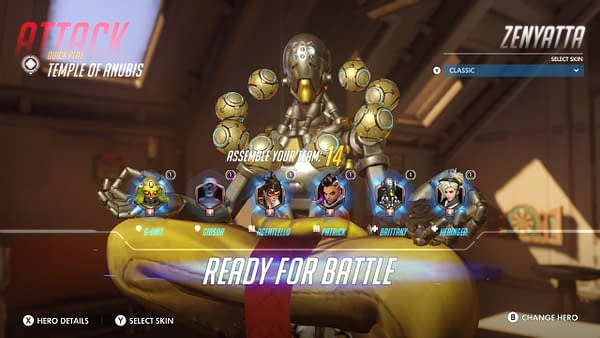 When I did have time to jump into a game, it would have been right before I went to sleep. Playing in bed, like with the PS Vita or a mobile device, would have been optimal, because at that point after a lengthy day of sitting in front of various screens, I wanted to stretch out and relax.
That's why the Switch iteration is not only perfect for me, but I surmise will be a godsend for players looking to get a quick few matches in while hanging out on the couch or before drifting off to sleep. For pro players, it leaves a bit to be desired, but for everyone else, it's an excellent package. In particular, this Legendary Edition comes packing a variety of skins you can outfit your mains with and three free months of Nintendo Switch Online to get you started – a great deal, or those just getting started.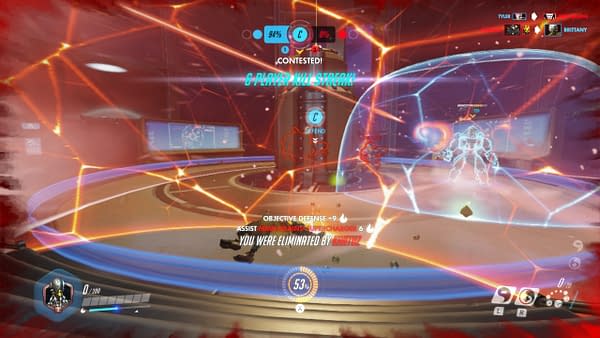 First, the elephant in the room: motion controls. While I found them borderline insufferable and turned them off almost immediately when testing the game with Joy-Con controllers on a regular Switch (something I tend to opt out of with any game I can), it didn't feel nearly as obtrusive when I switched to handheld mode via Switch Lite. In fact, the entirety of the game improved tenfold when I opted to play via handheld mode, which is where I spent the majority of my time.
You can absolutely turn off the motion controls if you prefer, but they do tend to add a fun edge to combat. You can keep full-on motion controls, or retain aim-assist if you prefer. I opted to keep them off most of the time, but I'd be lying if I said it didn't make keeping my clawlike grip on the Switch Lite and its tiny shoulder buttons a bit more comfortable. It gave my offensive Zenyatta strategies a bit more edge, but in the end, it was too easy to accidentally move the system and find myself looking somewhere totally different when I was supposed to be offering support.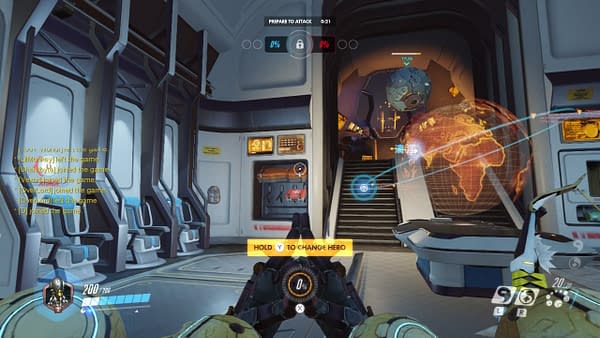 Oddly enough, though, I didn't notice that much of a performance hit. Obviously the graphics were noticeably muddied, though you had to know going into this port that would be the case. But running at 30 frames per second, I really had no qualms with the way the game ran. Muddier textures and less detail aside, it looked like a diminutive version of the same game I enjoyed across every other system.  It's never truly been that much of a looker in the first place, so this wasn't something that bothered me.
Luckily, I didn't even see any egregious lag when hitting up a few dozen games during my initial testing run. My frantic orb swapping and projectile-slinging as Omnic bae Zenyatta felt responsive. Every time I went down, I knew exactly why. I couldn't blame it on the lag. Selecting a role for role queue, getting into skirmishes, and finding matches was quite sooth. It was an unexpectedly positive experience, in fact.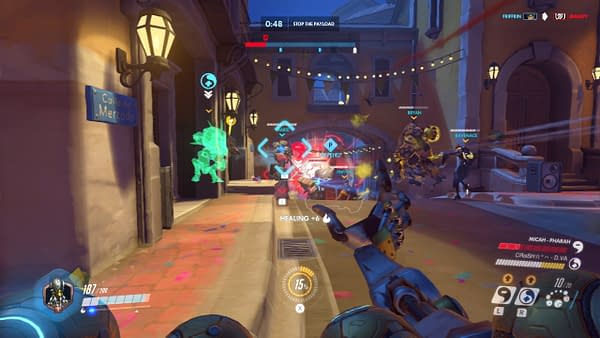 My main gripe with the port, which was extremely unexpected, didn't come from any sort of performance or content, however. It's the fact that playing it on Switch is very uncomfortable in handheld mode, where it absolutely excels. Sure, you can play it on your TV or monitor, but why would you really want to? At that point, you may as well play it on PC.
By the end of six matches during one session, my arms and fingers were sore from play. The discomfort could be chalked up more to the Switch Lite's design than the game. Given that it plays so well in handheld mode, that's probably how most will end up experiencing the game, though. Trust me, it's not comfortable. If you're planning on playing primarily this way, that's definitely something to consider.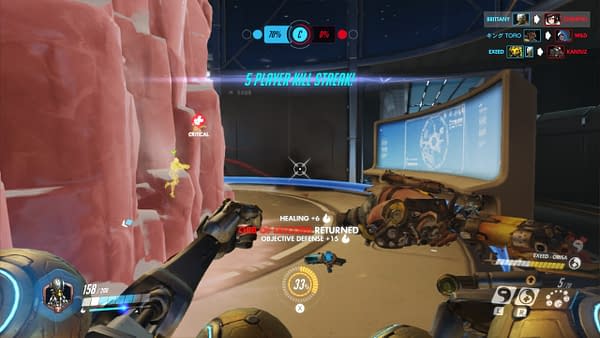 Overall, though? I was impressed by the port. Having spent hours and hours with the PlayStation 4 version, I wasn't optimistic. Blizzard gave me a pleasant, exciting surprise with this port of Overwatch, however, and now I can get back to regular play. It isn't perfect by a long shot, but you could do a whole lot worse.
Enjoyed this article? Share it!