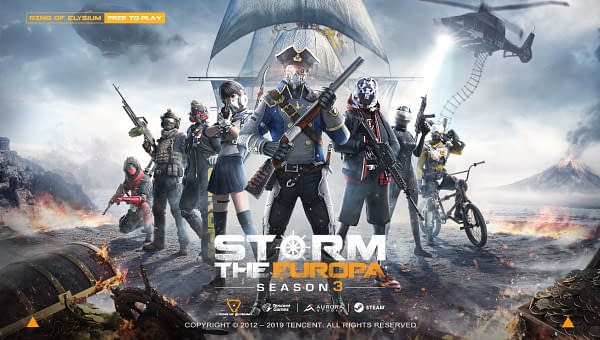 Aurora Studios has brought in a bunch of pirates for Ring of Elysium's Season 3 Adventurer Pass, which includes three new seasonal characters for players to unlock: Captain Fokke, Elliot, and Saki. All three new characters can be unlocked with the Season 3 Adventurer Pass.
In addition to the new characters, Season 3 appears to be coming with a new pirate-themed event, based on the new release trailer. An official announcement about the pirate-themed game mode will come sometime in the next few weeks.
Aurora Studios has revealed the backstories for the three new characters, which are about as diverse as you could expect for a season all about pirates.
Elliot is an elusive hacker who doesn't show his face, but rather wears a fancy helmet. His genius hacking skills have gotten him into Echelon's security system.
Captain Fokke is a mysterious pirate also known as "The Myth" and has unparalleled ship-handling skills, possibly due to a literal deal with the devil.
Saki may look like your average Japanese school girl, but her archery skills have no parallel.
The Ring of Elysium Season 3 Adventurer Pass is available now. You can find more information on the pass and upcoming game mode here.
You can check out the Season 3 release trailer below.
Enjoyed this article? Share it!