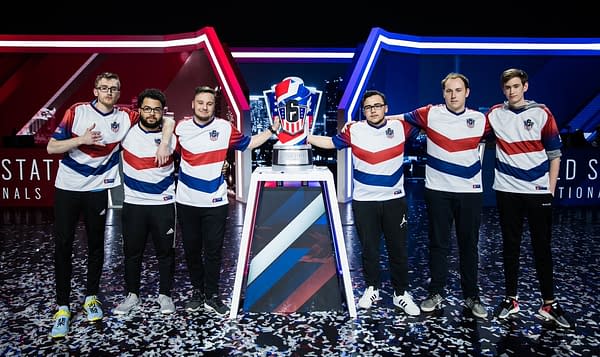 Rogue Esports and parent company ReKTGlobal announced a $10.8 million Series A funding round thanks to a group of expert investors. The esports venture company's financing was led by entrepenuer and musician Nick Gross who will now join the board of ReKTGlobal. Other investors participaing in the Series A funding round included EDM producer Steve Aoki, several band members of the rock group Imagine Dragons, manager Mac Reynolds, event promotion company Live Nation, Larry Rudolph, Ozone Entertainment founder Bred Disend, and 1916 Management founder Jonny Gordon.
The funding round was engineered to fund Rogue's global expansion and entry into the new League of Legends European Championship. Rogue is the only North American esports organization to secure a franchise spot in the LEC without previously participating in the European League of Legends Championship Series. Rogue will need to do some major expansion in the next few months to take part in the League's future events.
"Nick Gross and the investors selected for this round bring incredible expertise and connections in the entertainment world that will help fuel Rogue's international growth as a pro gaming powerhouse with esports superstars, celebrity supporters and a rabid fanbase," said Amish Shah, co-founder of ReKTGlobal.
Gross is an early investor in ReKTGlobal and the lead investor in this Series A funding round He's also worked closely with ReKTGlobal to bring esports programming to his Find Your Grind organization and has worked to establish the Junior Rogue program, which mentors kids under 17 on the path to becoming esports pros.
"We've believed in the vision of ReKTGlobal's co-founders Amish Shah and Dave Bialek from the beginning. By partnering with ReKTGlobal, Find Your Grind was able to bring esports curriculum to high schools across the Unites States and award $450,000 in annual scholarships to students interested in exploring esports as a possible lifepath," said Gross, who also serves on the board of The Gross Family Foundation, one of the largest philanthropic organizations in the world. "I'm passionate about this space, and it's exciting to take my involvement with ReKTGlobal to the next level by joining the board, bringing our Find Your Grind and Junior Rogue programs to Europe, and expanding Rogue esports around the world."
Co-founded by Derek Nelson and Frank Villarreal in May 2016, Rogue was acquired by parent company ReKTGlobal in December 2017. Rogue has taken in several championship titles in multiple games, including Rocket League, Fortnite, FIFA, CS:GO, and Rainbow Six.
Enjoyed this article? Share it!