Roll20 To Present "Lost Odyssey" Autism Fundraiser Event
Roll20 will be holding a fundraiser next month called Lost Odyssey: The Book of Knowledge, a D&D event for the Autism Society of America. The event will take place on November 15th at The Apex Theater in Los Angeles, featuring a star-studded cast of celebs and D&D alumni. The cast will include Deborah AnnWoll (True Blood, Daredevil) as the Dungeon Master with player Matthew Lillard (Scream, Scooby-Doo), Satine Phoenix (Gilding Light), TJ Storm (Godzilla: King of the Monsters), Kate Welch (Acquisitions Incorporated: The C-Team), Xander Jeanneret (Relics and Rarities), and one more secret surprise guest. You can buy tickets to the event here, and we have more details for you below.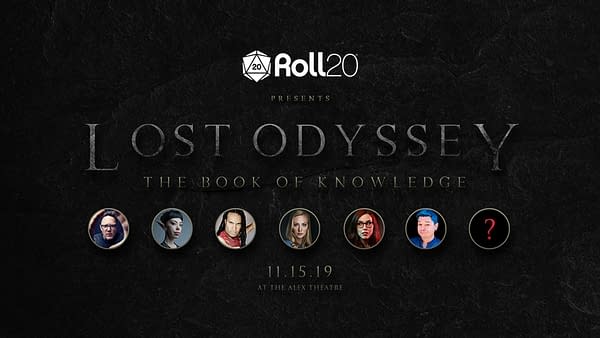 Also, the event will host vendor booths on hand at the Roll20 & Meetup pre-show. Then, audiences will be transported by our illustrious Dungeon Master, Deborah Ann Woll, who will thrust our cast of famed heroes into her wondrous world of stories in one of the most unforgettable games of D&D ever played onstage.

With a production team covering the event for a feature documentary, attendees are encouraged to come incostume as the audience will be part of the film! Not able to attend the show? Tune in to a livestream of the Lost Odyssey world premiere via Twitch and Tiltify, as the live event will be launching a fundraiser campaign where audiences can donate for their chance to receive thousands of giveaways in the ASA fundraiser. 100% of donations from the fundraiser will be going to the ASA.