Sea of Thieves' Next Free Update "Cursed Sails" Coming in Late July
This morning Rare announced that they would be unleashing the next free content update to Sea of Thieves later this month. The "Cursed Sails" update will be coming to PC and Xbox One on July 31st, and according to the developers, this is going to change the game in a radical new way so that old players and now will be able to enjoy it. Below is a description of the update along with the new trailer to show it off.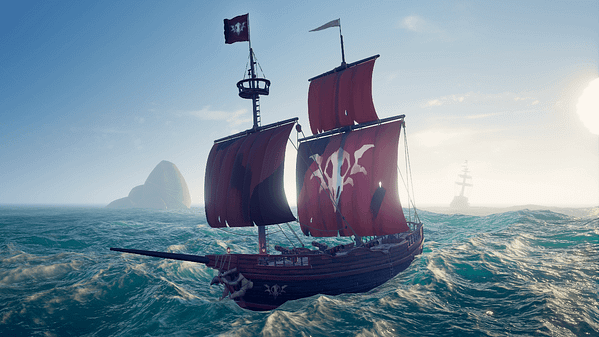 Cursed Sails will change things forever on the Sea of Thieves, as the sails you see cresting the horizon are no longer guaranteed to be other players making their own way through the world. The decks beneath those masts may now be manned by skeletal marauders returned to the seas from their restless graves. All that sustains these grinning terrors is a thirst for battle that leads them to terrorise Outposts and call out defenders to face them on the tides..

Fortunately, the threat of these fortress-like skeleton ships washes up alongside other features planned to help Sea of Thieves' living pirates face down the dead. The Galleon and Sloop get some company in the form of the Brigantine, a new ship type specifically tailored for a crew of three. An Alliance system is also added which encourages crews to band together in pursuit of their goals, tackling greater challenges and sharing the rewards.

For those who like to follow the lore, things are afoot with Sea of Thieves' ever-competitive shopkeepers, and a tale of ambition and greed escalating into something truly terrible will come to light in Cursed Sails. As before, the first seeds of this story can be found sprouting between the community celebrations making up popular seafarers' rag the Pirate Times.