Someone Made Classic Zelda Dungeons In "Super Mario Maker 2"
People are seriously making some impressive levels in Super Mario Maker 2, and the latest set is a callback to the Zelda games of old. For those of you who have played the original 1986 NES version of The Legend Of Zelda, the image below may look slightly familiar to you. This is a variation mockup using Mario Maker assets of the crescent moon dungeon, better known as Dungeon #2 in the game. A user by the name of Superhat went through and made several levels that resemble the old dungeons made up like two-frame puzzles for you to navigate through.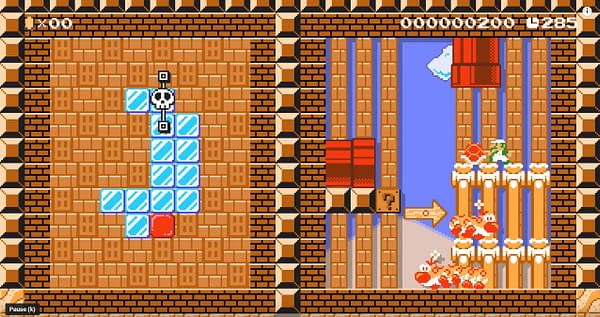 Some of these are actually quite clever, creating enemies to resemble what simple and hard enemies used to be in those specific squares. Trying to recreate how they looked and how you would need to navigate them. Using pipes and doors to get you from section to section. Even including Bob-ombs for you to bomb out certain sections and make your way through. It's a pretty ingenious way of using assets from Super Mario Maker 2 to make some old-school dungeons. You can watch the video below from BeardBear to get some of the codes to the levels and try them out. Not every level was created, primarily because some are just to big and others look like symbols that might get you banned from the game. But they're definitely worth checking out if you love old Zelda. The only thing missing is a mushroom to turn you into Link.