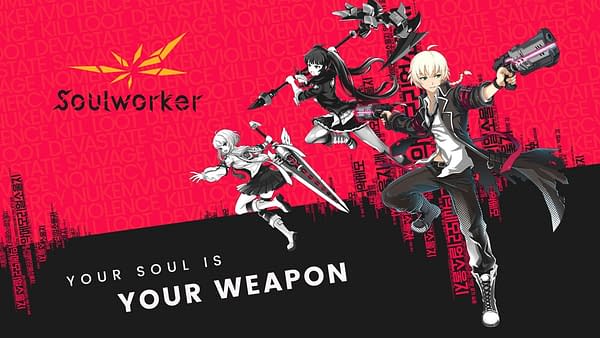 Gameforge and South Korean developer Lion Games have launched their action anime MMORPG SoulWorker in North America and Europe for Windows PC via Steam and the Gameforge portal. SoulWorker is a free-to-play post-apocalyptic action-adventure that has done well on the Japanese and Korean markets. Thanks to player feedback from the Open Beta, the game has been optimized for the larger and more diverse western audience.
"We are really pleased to see that so many players heard our call and took part in the SoulWorker Open Beta Test," said Noemi Feller, Product Manager at Gameforge. "Their feedback is the very thing that made this quick launch possible. All things considered, the reactions of the players were very positive. This confirms our belief that SoulWorker has the potential to become a real fan-favorite."
In the game, players choose between four heroes, known as SoulWorkers, who must put a stop to forces of evil in quick and intense battles. The premise of the game just gets more and more anime from there. The source of all the chaos is the aptly named The Great Void, which is an all-absorbing portal that has been the cause of death for many people and has already paved the way for countless demons to hop onto the scene. The emotions of SoulWorkers are so strong that they are able to transform their souls into powerful weapons. But first they have to learn how to handle their newly acquired strength – and do so before all of humanity is wiped out.
SoulWorker's key features include:
Action-packed cooperative gameplay for up to 4 players using the Soulum Sword, Mist Scythe, Gun Jazz and Howling Guitar character classes
Customize your battle style with personalized combos and abilities affected by a unique emotion system — madness, euphoria, vengeance and sadness
Large PvE content with over 100 dungeons and PvP zone for epic mass battles on an open battlefield
A dark post-apocalyptic setting with a captivating story and impressive cel-shaded animations, giving players a "playable anime" experience
SoulWorker is now available a free download for Windows PC on Steam and Gameforge.
The game will have live services, including routine updates. The live service aspect of the game will start with new PvP content as well as a fifth playable character class. SoulWorker is available in English, French, German, Italian, Polish and Spanish. There are servers available in all languages; an English language server will also be offered both for North America and Europe.
You can check out the launch trailer below.
Enjoyed this article? Share it!