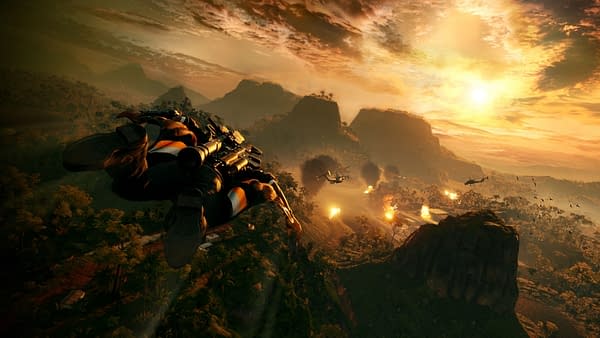 Following the sequel's announcement at E3 2018, Square Enix has released a new gameplay trailer for Just Cause 4. Using their new Apex Engine, Avalanche Studios have taken the series' signature destruction and physics to a whole new level with the introduction of fully simulated Extreme Weather events. Today's trailer, as you might have guessed, shows us a tornado in action.
Players will experience fully physicalized, gigantic tornados rip through the landscape, send huge pieces of debris spiralling through the air, and tear airplanes out of the sky. Once in the storm's path, the trajectory of every object is calculated in real time, opening up unique and brand-new gameplay opportunities amidst all the chaos.
To go alongside the new hardcore weather, Rico's grappling hook makes a return in Just Cause 4 now with new functions and customization options. In JC4, the grappling hook is the most powerful and creative tool the player has ever had as it gives them the ability to remotely attach multiple boosters and airlifters to any object in the game.
Just Cause 4 is a set to release on December 4th, 2018 for Xbox One, PC and PS4. You can check out the brand new trailer below.
Enjoyed this article? Share it!