Stranger Things Game Coming From Bonus XP, Based on Season 3
Stranger Things fans, we are getting a console game. Not just any console game however, a classic style video game. This one is being developed by Bonus XP, as announced at tonight's Game Awards by series creators the Duffer Bros.
Check out the railer they played at the show below:
While little is known about Season 3, it looks like from this trailer we know they end up having to defend the mall that Steve works at, with the famed Scoops Ahoy. It also showed us Hopper, Steve, and Lucas all working together and taking out some street toughs that have a design straight out of Double Dragon or Streets of Rage. It looks like a blast, and a complete throwback. Fans are going to love it so hard.
The game will be on every console, X-Box One, PS4, and Switch. There is no release date, but then again, we still have no clue when in 2019 we will see season 3 debut. My guess: they are the same week.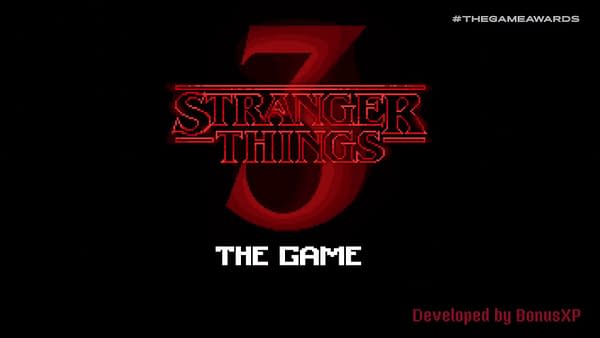 Keep it locked here for all the other big announcements and trailers from this years Game Awards all night long!