StreamElements, who work with all four of the major social streaming services we know, released new numbers that negate Ninja's move to Mixer. As we all know, Ninja made the move to the platform a few months ago, both for money and to find some freedom from Twitch's system. According to a new infographic released by StreamElements, not only did Ninja's move not help the company at all, they still lost ground to Twitch during Q3 of 2019.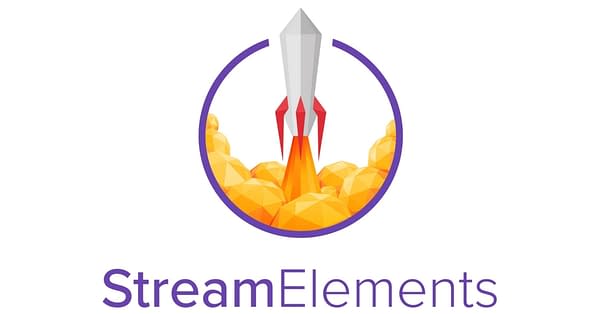 According to the data in the infographic, which appears courtesy of Arsenal.gg, you can see the company only gained a small percentage of hours watched on the platform after Ninja's move, but Twitch still dominated the viewing audience as a whole. What's more, Mixer fell behind Facebook Gaming as far as viewership, making the Microsoft-owned platform the lowest of the four. Here's a quote from Doron Nir, CEO of StreamElements on the release of the info.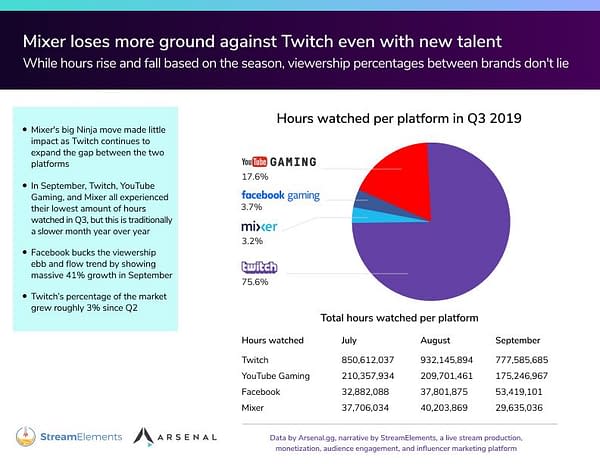 "While we regularly see a drop in hours watched from August to September, there are some interesting Q3 developments worth noting in the live streaming space. For starters, Ninja's move to Mixer turned out to not be the game-changer they probably hoped when comparing their market share with Twitch's. Another interesting development is how Facebook Gaming has only grown this quarter in contrast to the annual collective drop experienced by other platforms. It helps to apply a global filter to the data since Facebook is also strong in a lot of overseas markets. That being said, Twitch's percentage of the pie chart illustrates that they have slightly increased their market share. One thing worth noting about Mixer's signing of Ninja is that regardless of his impact on hours watched, it was a smart move to promote the Mixer brand, especially with Ninja doing extensive interviews about it."
The reason we say that Ninja hasn't had an impact, for now, is because he hasn't even been on the platform for an entire year. What this research is studying is the immediate impact based on his celebrity status and viewership when he left. One could argue that not enough time and familiarity has passed to truly measure what his impact on Mixer is in the long-term. It will be far more interesting to see where he sits nine months from now.
Enjoyed this article? Share it!