Hello there, dear readers! It's been a hot minute since I wrote a Commander deck tech, what with all manner of news coming up for me to write this month, all rather coinciding with the times I've been planning to write this particular article. Surprisingly, a lot of you seem to have enjoyed the My Little Pony/Magic: The Gathering crossover article. I mean, friendship is magic, after all…

Anyway, this past weekend I participated in the "Win Every Card" challenge on Magic: The Gathering: Arena (costing me a bit more time to write about that), and if you saw the things I'd seen, and subsequently how I did in the event, you'd understand that I'd be remiss to not write up this deck tech for Syr Gwyn, Hero of Ashvale.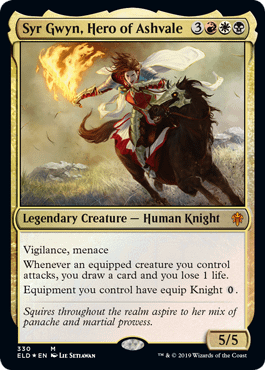 Therefore, I'm not going to procrastinate much more, except by recapping what commanders I've already gone over for this particular portion of the Throne of Eldraine set. Over the past few weeks, I'd gone over Chulane, Teller of Tales, Korvold, Fae-Cursed King, and Alela, Artful Provocateur, in that order. And now, with Syr Gwyn soon to be under my belt I'm finishing the cycle of commanders released specifically for Brawl, but not without Commander in mind.
This deck is sort of a Voltron-style deck (meaning the strategy is to strengthen one creature and kill through that one alone), but also really not that. You absolutely could bring Syr Gwyn out and equip her to the nines before swinging in with various Knight-pumping spells and lords. However, you can also aim to overwhelm your opponents with your various Knights all equipped pretty evenly – much like my final loss for the Arena event. In a way, it's sort of like a Zurgo Helmsmasher deck but without the randomization and with more options. I did say that these Brawl decks were going to be looked at through similar lenses as existing commanders.
Finally, keep in mind that I want to optimize the deck to keep up with the commander being saddled with the baggage of Brawl's Standard-rotational ickiness. This is why original duals and the like are in here. For this deck, I didn't care to keep to a budget. I hope it works out nonetheless.
The deck as discussed is here.
Notable Inclusions
Legendary Knights – I wanted a legendary subtheme in this deck. Before Syr Gwyn, Mardu Knights never had a proper lord, and now since they do, I felt that giving Syr Gwyn a warm welcome through the inclusion of cards like Adriana, Captain of the Guard, Márton Stromgald, and Haakon, Stromgald Scourge made a lot of sense. I consider the cadre of Knights a sort of Round Table.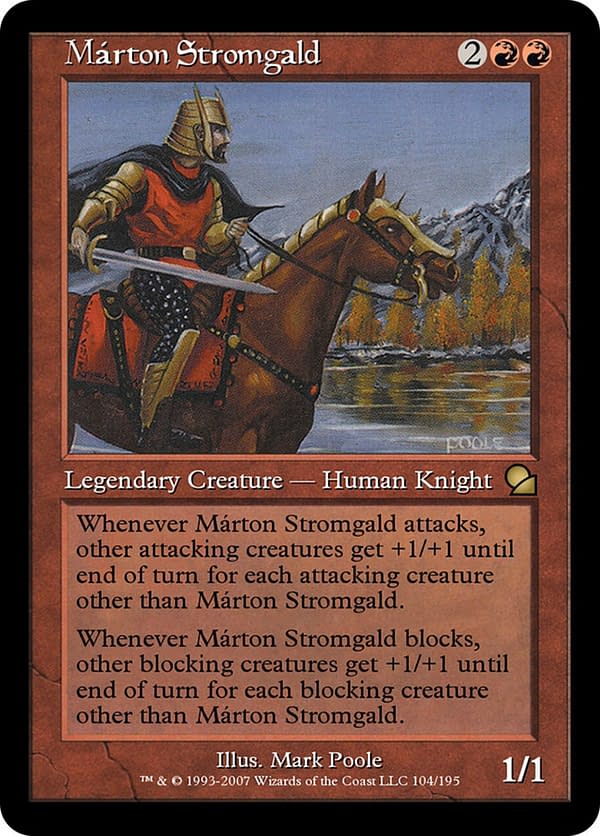 Support pieces for Equipment – While there are a ton of Knights in this deck, there needed to be a fair amount of cards that care about Equipment in order for the deck to work well. Syr Gwyn already makes Equipment costs free for Knights, but Puresteel Paladin is included as a secondary value piece to the same ends (remember, redundancy is great – plus the Paladin is a Knight. All the better!). Additionally, I am 100% for Leonin Shikari and am a bit dismayed that that card isn't a Knight itself. The same goes for Stoneforge Mystic's rather clear-cut inclusion (though I can understand why she isn't a Knight). Cards like this are a necessary part of any Equipment deck in white. Steelshaper's Gift is also great to these ends.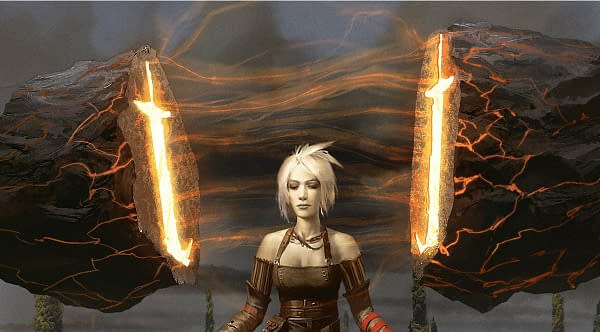 Equipment – Why would I discuss the Equipment support without going into the weapons and armor that the Knights need in order to shine? I am not running a full package of swords – this is because I wanted other Equipment in here that cost a bit more to equip, so I could capitalize a bit better on the value. I am running certain swords like the likes of Sword of Feast and Famine, Sword of Sinew and Steel, and Sword of War and Peace. I like these for the amount of impact they can provide. I admit that my issue protection-wise is in blue right now, but those swords won't protect against countermagic and blue mostly doesn't do as much on the field anyway.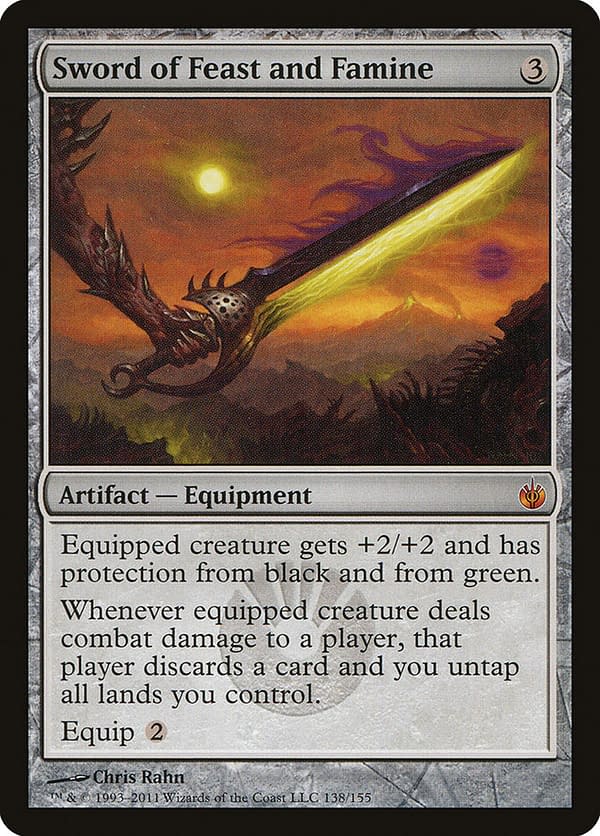 I'm also running a full set of Kaldra (Sword, Shield, and Helm) because it's a fun idea to consider assembling the Avatar itself. Finally, the normal Equipment suite that you see in virtually every Commander deck is in here. Lightning Greaves and Swiftfoot Boots will almost always have a home in most of my decks.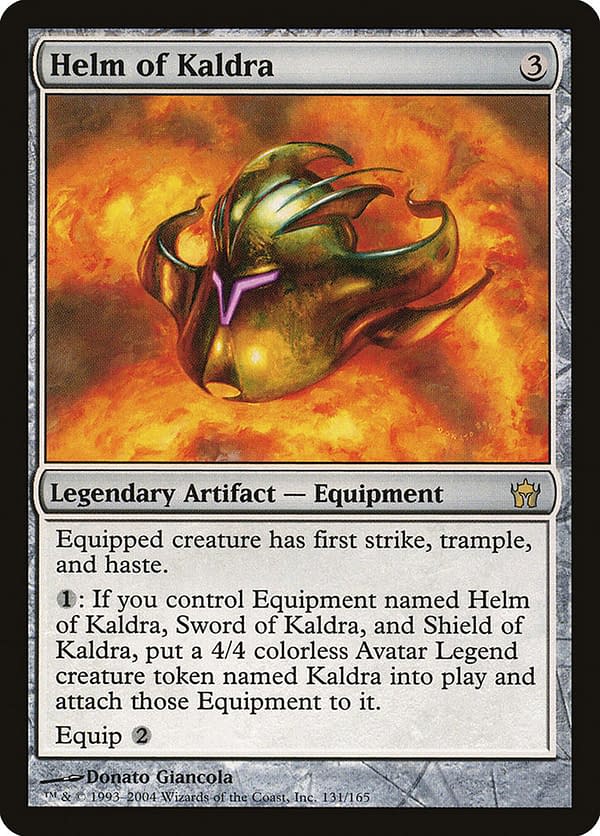 Conclusion
I still have not managed to playtest this deck, but it looks about as strong as any of the other decks I've done techs for. I hope that you have had some luck with this commander and that this deck tech might bring to light some ideas about strategies and cards to put in your own Syr Gwyn Magic decks, be they Commander or Brawl. If you've had any success with Syr Gwyn (through this deck or otherwise) let me know below! I'm hoping to go over Commander deck techs with a bit more regularity so keep an eye out for those. Have a good knight!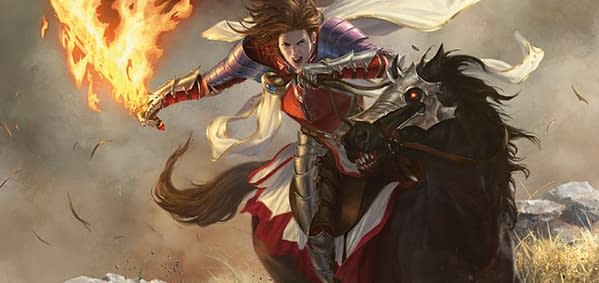 Enjoyed this article? Share it!