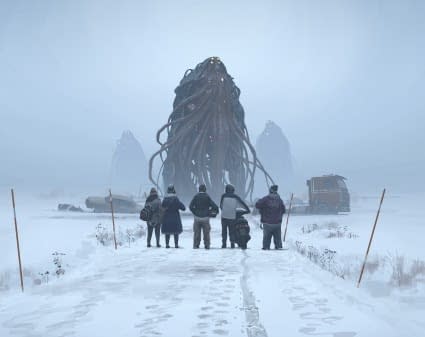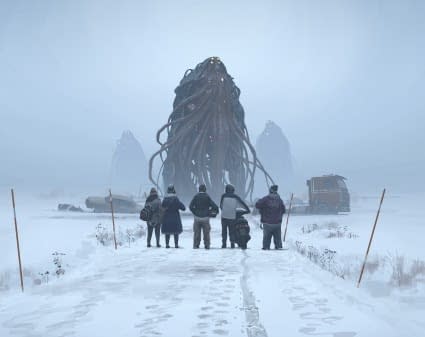 Free League Publishing has announced the long-awaited standalone sequel to the award-winning Tales from the Loop, which is called Things from the Flood. Like its predecessor, Things from the Flood is an RPG based on the worlds of artist Simon Stålenhagv.
Tales from the Loop RPG was released in 2017 and has won five Gold ENnies including Best Game and Product of the Year as well as three Golden Geek Awards including Best RPG. While the story from Tales from the Loop continues in Things from the Flood, the Flood is a standalone RPG that is fully playable as a complete game all by itself. You can choose to create brand new characters or continue your campaign from Tales.
Things from the Flood RPG presents players with a grim and bleak alternate 1990s, where they will step into the shoes of teenagers growing up in a decade of change and distaster. Players will need to balance day to day life with solving exciting mysteries with friends. That said, things are darker and more dangerous this time around.
While the core gameplay remains unchanged, the themes of Things from the Flood present players with a much more mature storyline.
Oh, and the kids can die this time around. Because nothing ups the stakes like teenagers fighting for their lives.
The darker tone and increased danger are presented pretty well in the game's official description:
Everything is changing, everything is falling apart.The world does not seem so innocent anymore. It's the '90s and the once mighty Loop has been shut down, the experiment abandoned, and the land bought by a powerful corporation. You are not Kids anymore, but Teens trying to find your way in a decade of change – both within and around you.

The Flood has transformed the once pastoral islands into a dark marshland. Some say that the black water pouring out of the ground comes from within the Loop itself. Machines are afflicted by a strange virus turning them unreliable and dangerous.

Still, your lives go on as before. You go to school, fall miserably in love, try to do everything possible to fend of boredom. When you hear about teens going missing, and even turning up dead, you realize it's time to gather the group again. One way or another you'll find out what these Things from the Flood really are.
It's also worth noting that backers of the original Tales from the Loop Kickstarter will receive a complete PDF of Things from the Flood at no additional cost as it was one of the stretch goals from the original Tales campaign.
The new Kickstarter is solely for the printed version of Things from the Flood. You can check it out here. The campaign was just launched today, but has already surpassed its base funding and many of the stretch goals.
Enjoyed this article? Share it!