Tera's Skywatch: Call to Arms Update Adds New Class, Treasure Hunts
En Masse Entertainment has revealed the first details on the upcoming Skywatch: Call to Arms update for Tera on PC. The update will bring a new race/class combination, a four-week levelling event, a new treasure map system, Gossamer Vault (Hard) adjustments, and the annual summer festivities.
The new race/class combination is the popori brawler. The race of tiny kittens will let their fists do the talking, despite their tiny stature and adorable appearance. To coincide with the release of the popori brawler class, En Masse is holding a four-week leveling event with the update to reward players with helpful items and faster XP gain.
Players who get their popori brawlers to level 65 by July 9th will earn the premium Kitten Hittin' Mittens weapon skins.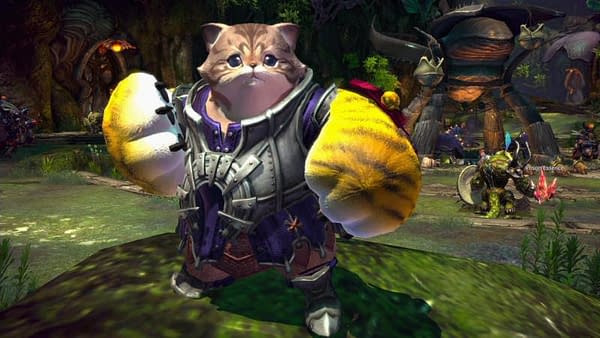 Skywatch: Call to Arms also introduces a new system for picking up treasure maps. Players completing high-level dungeons have a chance to earn one half of Naslow's Treasure Map, two of which can be assembled to point players and parties towards hidden chests of loot in the game world.
For end-game players, the Gossamer Vault (Hard) instance will be added for those looking for a bigger challenge and better loot.
Lastly, with summer just around the corner, the Blood on the Beach event will be returning to Tera on June 6, 2019.