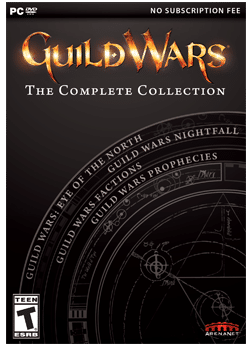 Arena Net announced the release of the Guild Wars Complete Collection yesterday, which gives owners access to the full original Guild Wars, Factions, and Nightfall campaigns plus the Eye of the North expansion and a few other bonuses. The complete collection is designed to let players experience the original Guild Wars story with enough cutsomization to play how they want and fill up their Hall of Monuments to earn rewards that will pull over to Guild Wars 2.
The Guild Wars Complete Collection includes the following:
An access key for account creation
Access to the full original Guild Wars, Guild Wars: Factions®, and Guild Wars: Nightfall®campaigns
Access to the Guild Wars: Eye of the North® expansion via downloadable client (requires a level 20 character)
Access to the Hall of Monuments in Guild Wars: Eye of the North, where you can earn exclusive rewards in Guild Wars 2
Guild Wars: Game of the Year Edition bonus items: seven exclusive weapons and a fire imp combat ally to assist in your adventures in Guild Wars (To claim your items, type "/bonus" in the chat window while logged in to the game.)
Bonus: M.O.X. the golem Hero—the ultimate in magical mechanized party protection (requires a level-10 character)
The Complete Collection is available now for $39.99 USD at guildwars.com.
Enjoyed this article? Share it!