The Sinking City: Something's Rotten in the State of Oakmount
Frogwares and Big Ben have released a new gameplay trailer for The Sinking City that shows off some never-before-seen footage of the horror and insanity that runs rampant in the streets of Oakmount, Massachusetts.
As you may know, The Sinking City is an investigation game set in a world inspired by the works of horror writer H.P. Lovecraft. Players take on the role of private investigator Charles W. Reed, who finds himself slowly going insane from his own demons, but desperate to reveal the truth behind the unspeakable terror gripping the city and its citizens, including himself.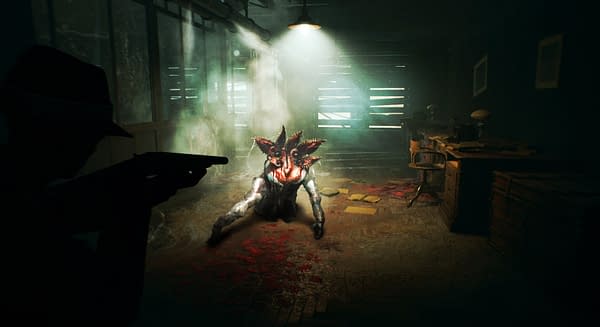 The Sinking City is set to release on June 27, 2019 for PlayStation 4, Xbox One, and PC. The game was delayed to late June earlier this year.
You can check out the rotten city of Oakmount in the trailer below. If you're more interested in the deadly fashions of the citizenry, you'll want to check out the "Deadly Fashions" trailer.
"I… I think I'm going mad. I see things. Visions… and I need it to stop. Waterlogged ruins with unnatural architecture. A sleeping giant. Drowned streets".

Explore the depths of The Sinking City on June 27 for PlayStation 4, Xbox One & PC.

Tortured by his past and otherworldly visions, Charles W. Reed, a private investigator finds himself in Oakmont, Massachusetts, seeking salvation from the creeping insanity that afflicts him.

Once a trade harbor, known for its lucrative smuggling business, Oakmont now lives in secluded isolation from the rest of the world, under a flood of supernatural origins.

In this place of decay and superstition; players will have to deal with the dregs of mankind, follow clues they wish they had never found, and unveil a cosmic horror threatening the world itself.