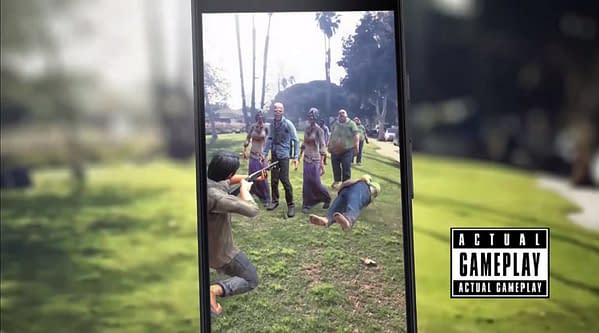 AR mobile game The Walking Dead: Our World has won three Webby Awards for Technical Achievement and both the Webby Award and People's Voice Award for Best Use of Augmented Reality.
The Walking Dead: Our World, based on AMC's hit TV show, is a location-based AR  game built upon deeply collaborative gameplay. The game integrates Google Maps technology and its map data to turn the player's real world surroundings into a digital zombie apocalypse, creating undead hordes for players to discover and defeat in their neighborhoods alongside fan-favorite characters from the hit show. Players join groups of other survivors from around the globe to work together for big rewards.
However, players can also play while sitting at home or work by summoning enemies to them, rather than going out into the world to access combat. Which is rather unique among AR titles.
Next Games and AMC have made deep integrations between the show and the game, including weekly show-themed in-game events during Season 9 of The Walking Dead. And fans of both the show and the game can look forward to even more features and immersive experiences rolling out in The Walking Dead: Our World in the coming months.
The Walking Dead: Our World is available now on iOS and Android.
Enjoyed this article? Share it!