Happy Turkey Day to all our loyal readers from Bleeding Cool! After we wrote up our Oko, Thief of Crowns Magic: The Gathering deck tech (days in advance of Thanksgiving, to be frank), we figured you'd all probably have room for seconds. So, we cooked up another batch of deck techs for those with a more… insatiable appetite.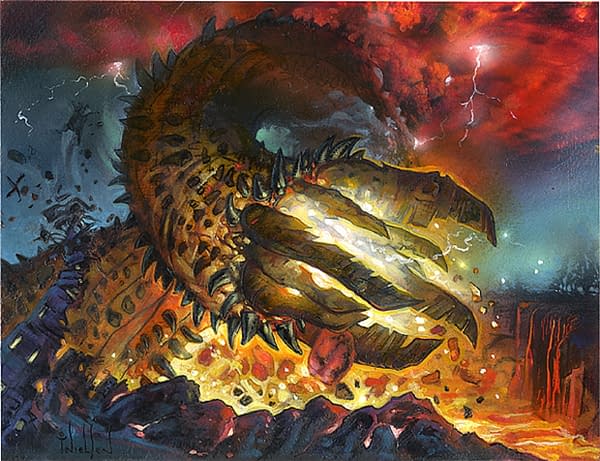 As an added course to today's news feast, we have written up a Commander deck tech revolving around Thromok the Insatiable, because we can't resist making food jokes at this time of year.
The decklist as discussed in this article can be found here.
This deck is based upon a three-step process: First, make tokens. Second, cast Thromok who eats those tokens. Third, Thromok eats your opponents. It's a fairly simple task. Are you brave enough to handle the Hungry, Hungry Hellion?
Notable Inclusions
Token producers – Before you can even think of casting Thromok, you absolutely need to have creatures on the battlefield to devour as a prerequisite. This is where token producers are essential to the plan that this deck revolves around. Creating cheap tokens like Saprolings with Mycoloth, or Goblin tokens with Krenko (either one will do the trick – the Mob Boss or the Tin Street Kingpin) will ensure that you will have an exorbitantly-large Hellion monstrosity in the frontlines in no time. And worst comes to worst, as always, Avenger of Zendikar will help you mop up in the lategame.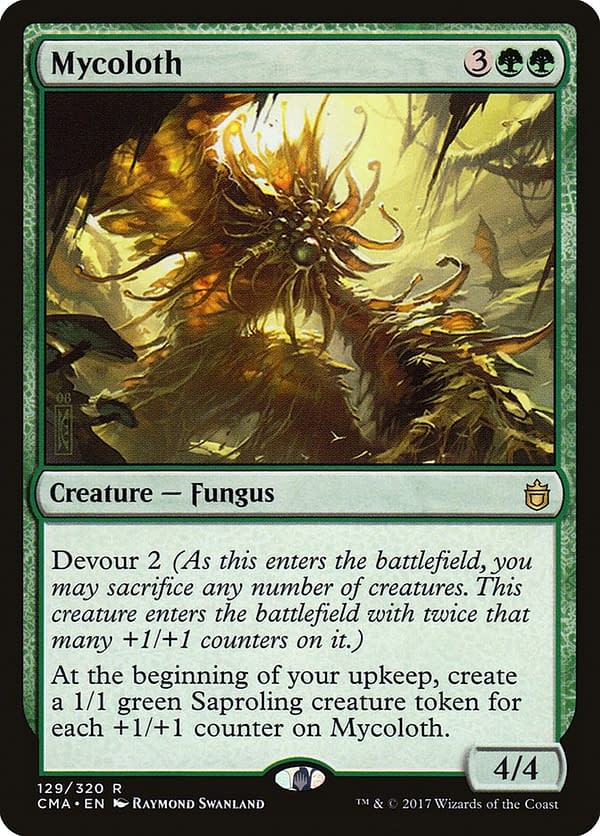 Trample enablers – One of the major downsides to Thromok having such a great ability is that the reminder text takes up most of the text box, and therefore the big guy doesn't get any other ability at his disposal. For those looking to swing in with him, that means, at least offhand, no trample. Fortunately, we have cards like Kessig Wolf Run, Archetype of Aggression, and Brawn waiting in the wings to allow us to get the damage through to our opponents faster and more efficiently.
Vexing Shusher – Sometimes our opponents won't want us to successfully resolve Thromok (okay, make that virtually all of the time). Some opponents will have the tools necessary to prevent Thromok from happening. Vexing Shusher will keep them silent enough so that Thromok is not just a threat, but an inevitability. In your face, Counterspells!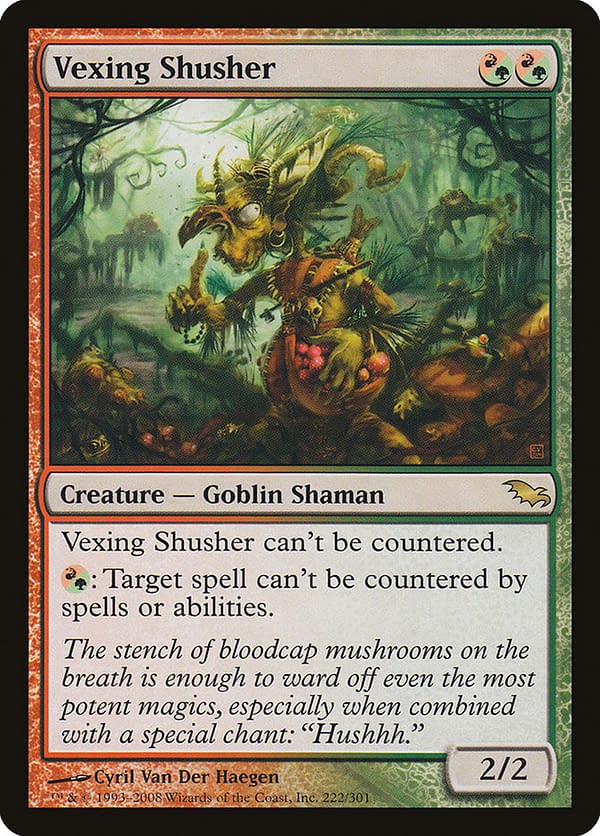 Non-combative win conditions – If you are locked in a stalemate with Thromok out and nobody able to be swung out at for lethal, do not fret! This deck can handle it. The best way is by literally flinging Thromok at your opponent's face… with Fling. Don't actually throw the card at someone. Please don't do that.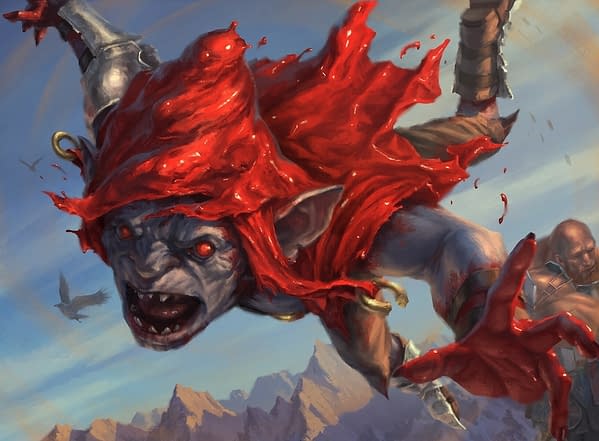 Additionally, and this one was pointed out to me just recently, Chandra's Ignition is a turn six win in this deck, provided you've sacrificed at least seven of your hapless creatures to Thromok the turn before (and this is also presuming no lifegain, no Platinum Angel-type effects, and so on).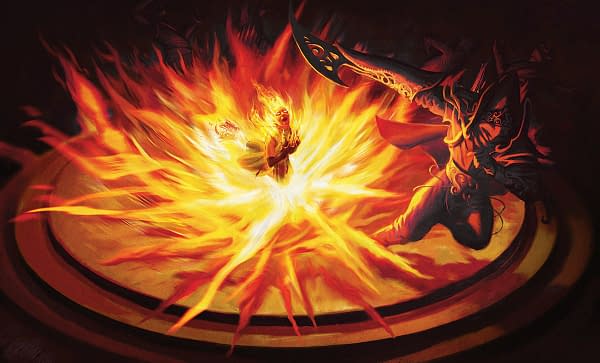 In Conclusion
I have more than one friend of mine who is looking to make a deck like Thromok the Insatiable. He seems like a rather tough cookie. Thromok probably takes Gruul (red-green) Aggro to a new level in terms of how formidable it can be, second only to a deck like Xenagos, God of Revels, probably. But what do you think? Is this deck strong enough to be played alongside a deck like Xenagos and hold its own, or even win? Have you got suggestions of your own on how to make the strongest iteration of Thromok imaginable? Let us know!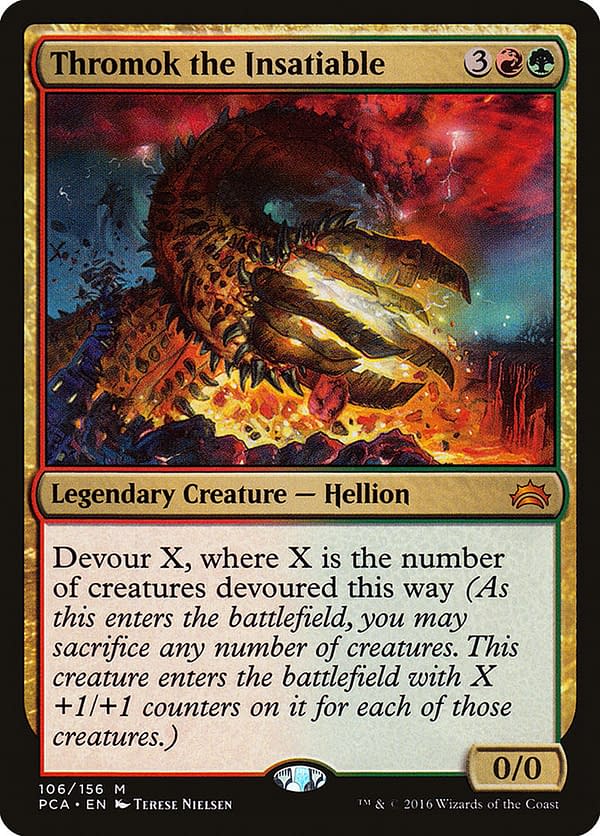 Enjoyed this article? Share it!