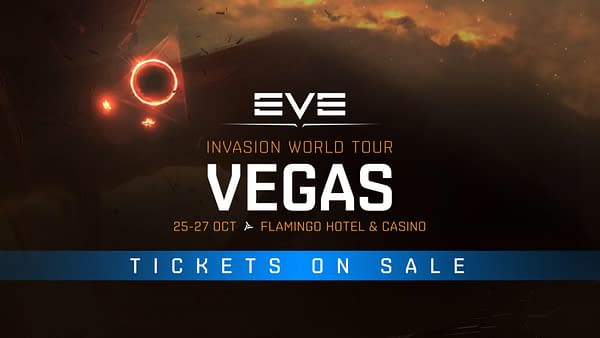 CCP Games, the creators of EVE Online, announced today that tickets are now on sale for EVE Vegas, the only U.S. stop on the EVE Invasion World Tour. The convention will be hosted by the Flamingo Las Vegas Hotel & Casino on October 25-27, 2019. Tickets can be purchased right now via Eventbrite.
The EVE Invasion World Tour is a global series of capsuleer conventions throughout 2019. Working in close partnership with its community, CCP Games is bringing an assortment of tournaments, announcements, developer roundtables, livestreams, unique in-game rewards and stellar parties directly to fans, bringing EVE Online closer to its community than ever before.
The EVE Invasion World Tour began in Amsterdam (EVEsterdam) last month and moves next to St. Petersburg (EVE Russia) on May 4, then to Sydney (EVE Down Under) May 23-26, and on to Toronto (EVE North) June 21-23, then Kemiönsaari in Finland (Fanfest Home) on August 23, and continues to Berlin (G-Fleet) September 13-14, followed by EVE Vegas, October 25-27 and concludes in London (EVE London) on November 23. For more information, visit the EVE Invasion World Tour homepage.
EVE Vegas started as a cozy player-run gathering in 2006 and has now solidified itself as the largest EVE gathering, being completely sold out the last five years. CCP Games will publish regular EVE Vegas schedule updates in the coming weeks; for further information visit vegas.eveonline.com.
Enjoyed this article? Share it!