Transformers TCG Rise of the Combiners Hits Stores Today! Open a Box With Us!
Transformers Trading Card Game is releasing its second series today, and the Combiners are here! After a very successful launch, Wizards of the Coast and Hasbro are upping the ante with the second series. Now players can combine bots to bring a titan-sized Combiner onto the battlefield. The five Combiner bots are Predaking, Volcanicus, Menasor, Superion, and Optimus Maximus. Each is made up of 4-6 hinged bot card, with a really awesome design. the cards fold in the middle for play in regular bot and alt modes during regular play. This new set features 76 new battle cards, and 46 new Transformers bot cards to collect and play with.WOC was nice enough to send us over a box to open to celebrate the release, so let's take a look at what we pulled!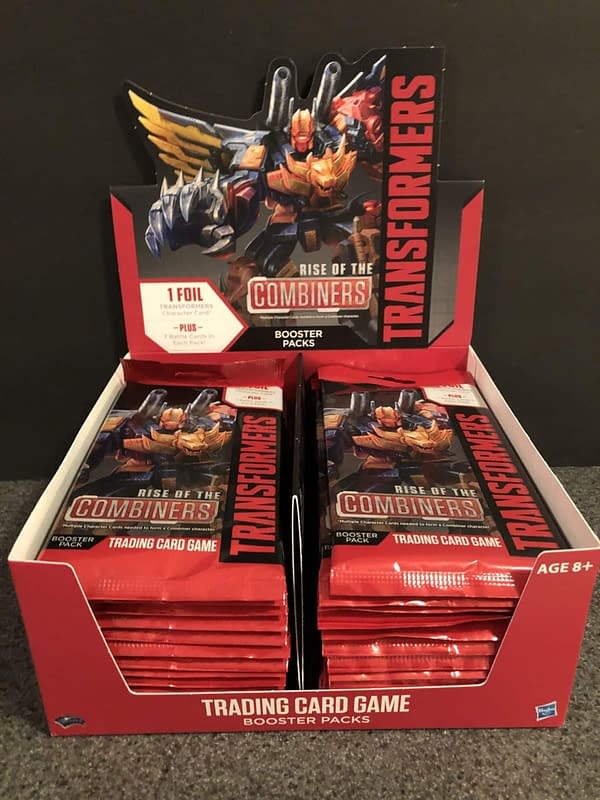 First: the pack design is awesome. Featuring Predaking in all his glory, each booster box contains 30 packs, with each pack containing a foil bot card and 7 battle cards. Combiner cards are 1:2 packs, so chances are good you can start completing Combiners right away.
These cards are super nice. As you can see on the Dinobot Swoop card, the hinge effect works really well. There has been no degration of it after repeatedly opening and folding the card, I know some were worried about that. The same awesome card art from Wave 1 accompanies this one, in both bot and alt modes. Some highlights from the battle cards include the Decepticon Crown and Bolt of Lightning, they will be going into my deck shortly. I pulled all 76 new battle cards in multiples from this box, so you should have no trouble there. As far as bots go, I was not able to pull any of the Super Rare 1:50 bot cards like King Starscream, but I did manage 3 Rares. Considering it took multiple boxes of Wave 1 to get that many, I would say thats a success. They have said they tried to distribute the Rares and such more evenly this wave.
This set is all about the Combiners though, and let me tell you, it is going to be tough to get these guys out onto the battlefield but if you do, look out. It bothers me so much that I have incomplete ones, especially my beloved Predaking. I did however manage to complete Menasor, and he is a foul beast I am looking forward to getting out and causing a ruckus with. Dreadwing was a nice surprise too, I haven't been playing with many aerial bots but I will throw him in and play around with it.
I can't wait to play this weekend with these new cards. If you don't know how to play, check out this site for more information. Also, watch these videos for a quick overview. Transformers TCG: Rise of the Combiners is in stores now!