Transport Fever 2 – Deluxe Edition Set For March Release
Transport Fever 2 - Deluxe Edition will be released in March with a ton of new additions and content for the ultimate experience.
---
Good Shepherd Entertainment and developer Urban Games announced that Transport Fever 2 – Deluxe Edition is coming out this March. Players will be able to buy what is essentially a completed version of the game with a ton of new additions and bonus content on March 9th, 2023, specifically for PC via Steam for $48. Those who already own the game will be able to purchase a $10 Upgrade Pack DLC to add all of that content without buying the game over again. Aside from the fill base game, you'll get two soundtracks, three new animals and landscape types, six new vehicles, three new maps, and more. We have more info below on this new edition of the game.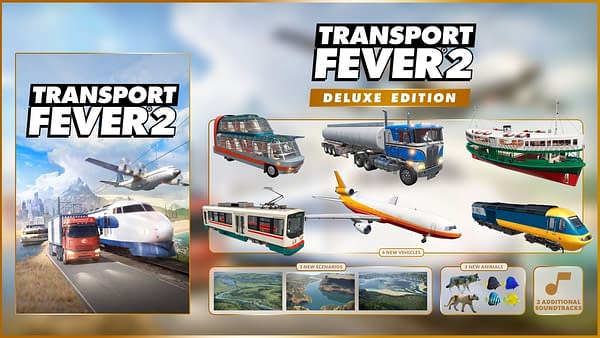 "The greatest logistical challenges from 1850 to today are experienced across three unique story campaigns featuring voiceovers and cutscenes. Players can let their creativity run rampant through giant sandbox maps in free play mode. Empires boom in beautiful detail with intuitive construction tools and dynamic economy, transportation and city simulation systems. Players can create and share their own worlds, missions, landscapes, vehicles and more with the in-game map editor and extensive modding tools and support via Steam Workshop. A diverse empire can be built by utilizing the game's new ecosystem options, which allow users to choose from distinct natural environments, each rendered in exquisite graphical detail."
"Those who already own Transport Fever 2 will be able to upgrade to the Deluxe Edition by purchasing the "Transport Fever 2 – Deluxe Edition Upgrade Pack" DLC. Alongside the DLC, a free update will also be available on the same day, granting players access to better graphics, with newly modelled vehicles with even more intricate detail and optimized rendering. This free update also introduces increased stability and performance, including optimizations of simulation performance, memory usage, loading times and more. Controller support will also be added, so players will be able to choose between the classic user interface and a new interface optimized for controllers. The free update will also include many other small enhancements, bug fixes, and other bells and whistles."