UK Game Devs Want To Brexit The United Kingdom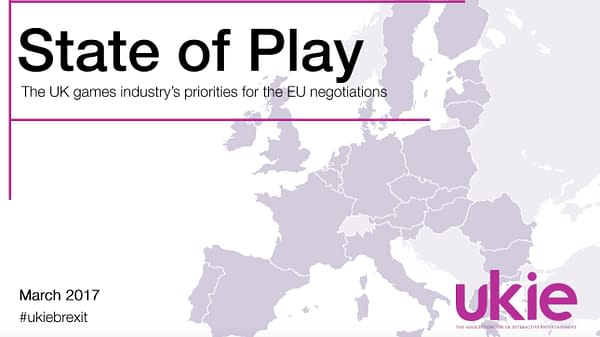 The reality of the Brexit negotiations seem to have finally set in for British game developers, as they are now queuing up for a Brexit of their own. Game industry organization Ukie (The Association for UK Interactive Entertainment) took a survey of UK-based game developers and found that the industry as a whole had grave concerns about the effect leaving the EU would have.
Much like in the US, the 75 companies interviewed by Ukie rely heavily on international talent, 61% of the industry in does, in fact. Those skilled EU citizens currently in the United Kingdom currently have no information on wether or not they will be permitted to continue living and working in the UK. Of the respondents, 98.4% of them felt that, moving foreward, skilled EU nationals should have a blanket right to live and work in the United Kingdom, despite Brexit. This is similar to the problem American tech companies are facing with rumored cuts to the skilled worker HB-1 visas, which would cripple Silicon Valley.
Other concerns were tariff-free trade between the EU and UK, as physical games could be subject to taxes now for changing international borders where before the sales were not taxed. Data sharing problems and funding issues also came up in the responses, as 37% of games businesses surveyed reported negative impacts on their ability to attract investment since the referendum in June 2016.
Rockstar North, Ninja Theory, Codemasters, Creative Assembly, Traveller's Tales, Rocksteady, Fireproof Studios, and Hello Games make up just some of the companies facing problems with the current EU-UK negotiations.
Obviously, voters should have thought about tech when casting their votes back in 2016. Why won't someone ever think of the devs?
For companies looking to relocate, and many have threatened to do so, Canada is more than happy to take you.
You can download Ukie's full report here.