2K Games Boasts Impressive Sales For "Borderlands 3"
2K Games are celebrating this morning as Borderlands 3 broke records and sold five million copies in a matter of five days time. The company made the announcement this morning, along with a proper thank you to the fans for getting them there. Along with Take-Two Interactive and Gearbox Publishing, the franchise has now generated over $1 billion in revenue over the course of the franchise, becoming one of the most successful titles for all three companies involved. Here's a couple quotes from this morning's announcement.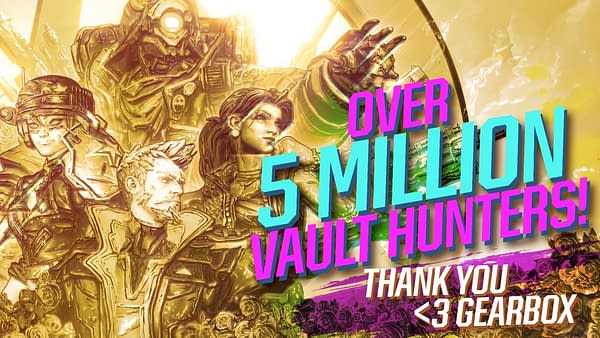 "The response from the Borderlands 3 fans and community has been overwhelming," said Randy Pitchford, founder of The Gearbox Entertainment Company and Executive Producer of Borderlands 3. "The mission of Gearbox is to entertain the world and with the record-breaking success of Borderlands 3, we're excited to take one more giant leap down that road. On behalf of the incredible development team and everyone who has had a hand in making this achievement possible, I extend our warmest thanks to our fans."

"Borderlands 3's incredibly successful launch is a result of the hard work and longstanding partnership between Gearbox Software and 2K," said David Ismailer, President of 2K. "We are immensely grateful to everyone who played a role in making the Borderlands series the global, pop culture phenomenon that it is today, including hundreds of developers at Gearbox and many who have made this their life's work. We also want to thank the Borderlands community. Mayhem does not happen by itself, and their passion for the series is what drives us to make each game an amazing experience."