Posted in: Games, Video Games | Tagged: disney, EA, ea dice, Forces of destiny, lucasfilm, star wars, Star Wars Battlefront II, Star Wars: Battlefront, star wars: battlefront 2
---
This Is Why We Can't Have Nice Things: Star Wars Battlefront 2 Ignited Gamergate Style Hate And Then Forces Of Destiny Made It Worse Star Wars Battlefront II hasn't even had it's official reveal yet, but after the trailer leaked two days ago, well. People's reactions were mostly excited or just critical of EA. But a few just had to ride in with their fedoras and straw man arguments at the ready to spread some infantile hate.
Yes, I am going to straight out call it infantile, because hating a game simply because a possible protagonist might be female is utterly childish. These people are basically saying 'something happened that doesn't cater to me, and I don't like it!' and then proceed to throw a tantrum. It's like the presence of women anywhere near these fan's properties is a threat. The reaction is visceral, and we women must be hunted down and rooted out like we're walking into these guys' homes and spreading our hideous lady cooties all over the place.
See, this all stems from that leaked Battlefront II trailer that's now been pulled by EA. The trailer featured a young woman who might possibly be one of the game's protagonists. It also showed off the incredible women of the Star Wars universe by giving us flashes of this mystery woman, Jyn Erso, and had Rey prominently featured on the pre-order bonus art. So, there are women in a galaxy far, far away, and these guys don't really like that. I get it, some guys think Leia is all the inclusion we need, but as badass as General Organa is, sometimes it's nice to see more than one woman in a movie.
Keep in mind, that new character could just be the Battlefront version of Ryder, Shepard, or Hawke – a player character who can be altered, but that has a default character design based off of a real person – since the woman in the trailer looks a lot like actress Janina Gavankar. And lets not forget that this leaked trailer prominently features a ton of the male characters, because Star Wars isn't always the greatest about featuring a realistic breakdown of gender or race when dealing with humans in space. It's almost like Star Wars films are mostly filled with men, most of them white.
Twitter user NotBrandonNoel was the first to spot the trend, and yes, it is a trend:
And you can probably guess what those comments entailed. They didn't seem so bad at first. Mostly confusion and dislike.
https://twitter.com/STEFFIBIZNESS/status/852094046298411008
But then it really hit. This comment on Game Rant's coverage of the trailer is a late-comer to the field, but pretty solidly sums up the argument these disgruntled fans are making.
Further down on that thread was this one, which added transphobia to the field:
Now, I know the last two Star Wars films – The Force Awakens and Rogue One – featured women in the lead roles, and this possible female protagonist in Battlefront II is a bit too much of an estro-fest for some, but let's be real: Leia was basically the only female character in the first three films. Carrie Fischer was a fantastic actress, but that doesn't make up for the historic lack of women in the franchise.
Not that anyone's told these guys. And then Lucasfilm and Disney crashed the party with that Star Wars: Forces of Destiny announcement. The series will feature animated shorts that appear to focus on the women of Star Wars. Because they do make up about 50% of that galaxy far, far away if it's anything like ours – if not, well, we are the audience. So it's about damn time nerd girls got something Star Wars of their own.
Minutes after that announcement hit at midnight EST, one of our reporters at Star Wars Celebration – BC's own Jeremy Konrad – had a very telling text conversation. With permission, I'm reposting that conversation below. Because there's some insight to be had here.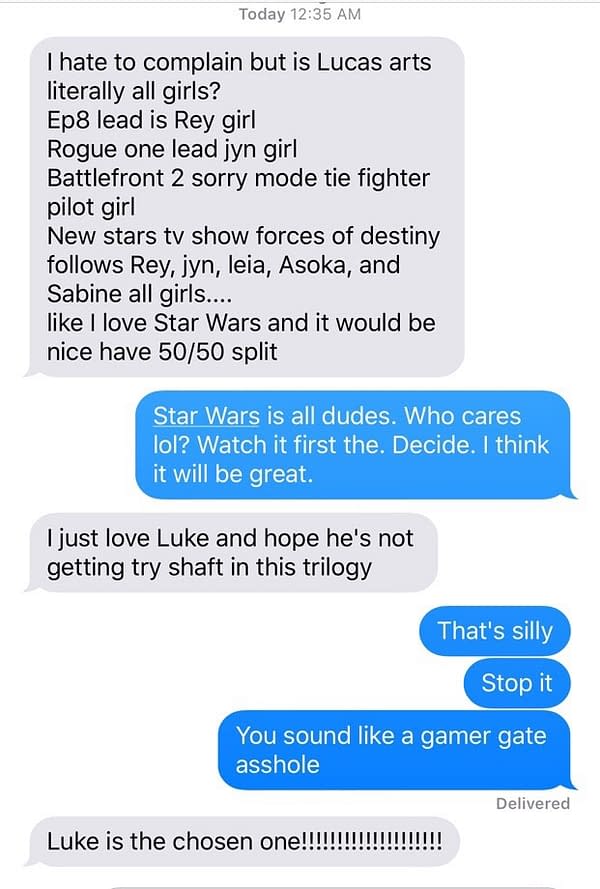 The comments following Forces of Destiny's reveal were just as bleak as those coming from Battlefront II.
"Why are there so many women?" or "Why does everything have to be about girls now?" My personal favorite though is that "Luke is the chosen one!" cry. Because dude, Anakin was clearly the real chosen one.
So now that I'm done giving you several more reasons to lose faith in the world, there is a solid amount of hope.
Some got fed up with the press making a big deal of female protagonists, because that should just be ndb, right?
Others were still focusing on that whole it's being published by EA thing.
https://twitter.com/ddavisinspace/status/852213302503624704
Some had their priorities in the right place. Who cares about Maul and Rey, we want new Star Wars adventures. That's why we all play the games, right? If we wanted more of Luke, we'd just watch A New Hope again.
https://twitter.com/blivengo/status/852265528261435392
But so many women were excited. Because of course they were. We all should be.
There are some guys that get it, or if not, are willing to let the nerdrage go. Because ladies, tonight is our night to break out those Aalya Secura, Shaak Ti, Jyn, Ahsoka, and Rey costumes. We've finally got a seat at that table, and we're going to win it. Star Wars belongs to us now. Yes boys, we are taking another one of your toys.
What were your reactions to Battlefront II and Forces of Destiny? Personally, my reaction centered on Rey's lightsaber. Because if that's dual-handed, it makes so much sense. She did fight with a staff first.
---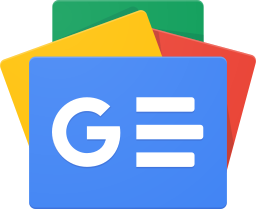 Stay up-to-date and support the site by following Bleeding Cool on Google News today!