Square Enix's End-of-Year Net Sales Down Due to Lack of Blockbuster Releases Square Enix has released its end-of-year report for fiscal year 2018 (ended on March 31st, 2018), which saw an small decrease in net sales (2.5% down from fiscal year 2017). However, the company's operating income saw an increase of 22% and ordinary income saw an increase of 16.0%, so it wasn't a total wash. The company has put the overall decrease in net sales down to the lack of blockbuster releases in the year 2018.
That said, a decrease of only 2.%% for a year with no "blockbuster" release isn't bad. That success is credited to the release of Dragon Quest XI in Japan, the global release of Final Fantasy XII: The Zodiac Age, and "strong" digital download sales for previously released games like NieR: Automata which resulted in an increase of operating income.
You can check out the consolidated financial results in the table below.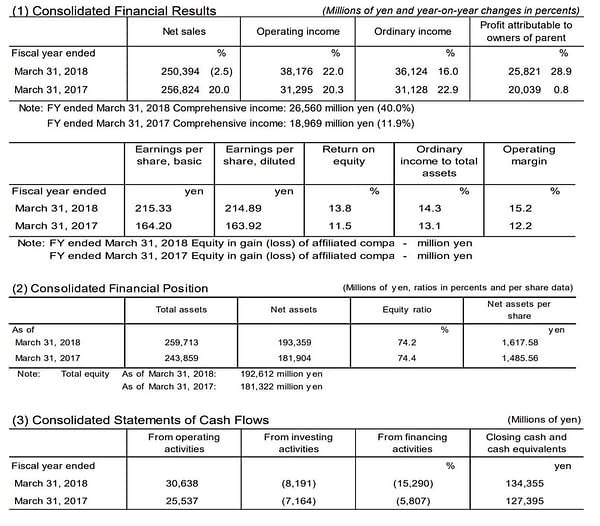 As for smartphones and PC browser games, their established lineup of games like Final Fantasy Brave Exviux, Hoshi No Dragon Quest, Dragon Quest Monsters Super Light, and Kingdom Hearts Union X continued to show strong performances globally. The company also saw an increase of royalty income, which pushed both net sales and operating income up from the previous year.
Finally, the company wraps up their summary with the revenue from their two major MMORPGs. Both Final Fantasy XIV and Dragon Quest X saw expansions release in fiscal year 2018, which led to an increase in the number of paying subscribers and disc sales, resulting in an increase of net sales and operating income.
Overall, the net sales and operating income in the Digital Entertainment segment of Square Enix holdings saw an increase of 3.8% over fiscal year 2017 with a total of ¥191,469 million (net sales) and an increase of 30.4% for a total of ¥43,421 million JPY (operating income).
Which, honestly, is a pretty good year, and the strong digital sales of previously released games is a credit to the strength of the brand. Of course, things could always be better. As part of their financial outlook for fiscal year 2019, the company is expecting to see their net sales increase due to the bevy of "blockbuster releases" they've promised for the year. Considering Kingdom Hearts III and the Final Fantasy VII Remake might be on that slate, its likely that prediction will come true.