Walmart is Getting an Exclusive Mario Tennis Aces Switch Bundle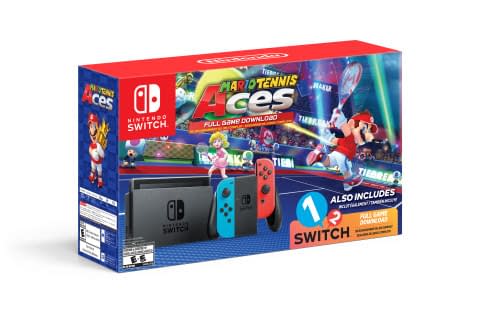 Nintendo announced this afternoon that they'll be shipping a brand-new Switch bundle pack exclusively for Walmart. The bundle will include Mario Tennis Aces and 1-2-Switch alongside the Nintendo Switch console. So if you haven't picked up a version of the hybrid console and you really want to play virtual tennis as your favorite Nintendo characters, this is a pretty solid deal.
The bundle will retail for an MSRP of $359.99 USD, which gets you the system and digital download codes for both games.
The announcement from Nintendo reads, in full:
If you haven't yet picked up a Nintendo Switch system or are looking to jump start your holiday shopping, Walmart has a great exclusive deal starting on Sept. 5. For a suggested retail price of only $359.99, you get the Nintendo Switch system and digital download codes for two great multiplayer games – Mario Tennis Aces and 1-2-Switch – providing hours of family-friendly fun.

With Nintendo Switch, you can play games anytime, anywhere. In addition to Mario Tennis Aces and 1-2-Switch, the system is the home to critically acclaimed games like The Legend of Zelda: Breath of the Wild, Super Mario Odyssey and Splatoon 2, as well as popular franchises like Fortnite from Epic Games, EA SPORTS FIFA from Electronic Arts Inc. and Minecraft from Mojang AB.

This holiday, three of Nintendo's most popular series are coming to Nintendo Switch, with Super Mario Party, Super Smash Bros. Ultimate, Pokémon: Let's Go, Pikachu! and Pokémon: Let's Go, Eevee!
The only troublesome bit of the bundle is the digital download codes fro the two games included. The Switch has a pretty small hard drive, giving you roughly 28 GB of free space (it has a 32 GB hard drive, but the OS takes up about 3 GB and change), so those games will take up a pretty solid chunk of your onboard storage. The Switch's lack of storage space has been a major disadvantage of the system since it launched in 2017, as it requires owners to purchase larger SD cards to use for game storage.