We're Live Reporting from MapleStory Fest 2019
Fans of Nexon's MapleStory series have taken over Exchange LA today for MapleStory Fest. The fan event is celebrating the franchise's 14th anniversary with an assortment of brick-building activities, raffles, plushies, a content showcase, and cosplay contest. So, you know, typical fan fest events.
If you were unable to make it out to LA or pick up a ticket to MapleStory Fest, we're reporting on-site today. Major announcements for MapleStory 2 will hit the BC main page, but for on-the-ground photos and info snippets, be sure to check out the official Bleeding Cool Games twitter account throughout the day.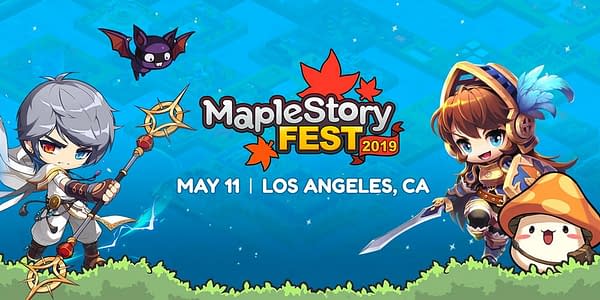 The event is happening right now with some crane games and brick building activities, but the opening ceremony starts in just a few minutes. The opening stage show will also contain information on MapleStory 2, so do keep your eyes peeled from 11 to 12:30pm PDT.
We'll be back at 2:30pm for the 14th Anniversary and Summer Content Showcase.
Unfortunately, the event is focusing on MapleStory and MapleStory 2, so we won't have new info for fans of MapleStory M .