What's in the Box?!: The Nick Box – Winter Edition
One of the cool subscription boxes we recently got signed up for was The Nick Box, which as a Nickelodeon fan of old, I was super excited to start receiving. We recently picked up the Winter 2018 box in the mail, and were informed that the Spring 2019 box was on the way! So before we get the next box, let's crack this one open and see what's inside!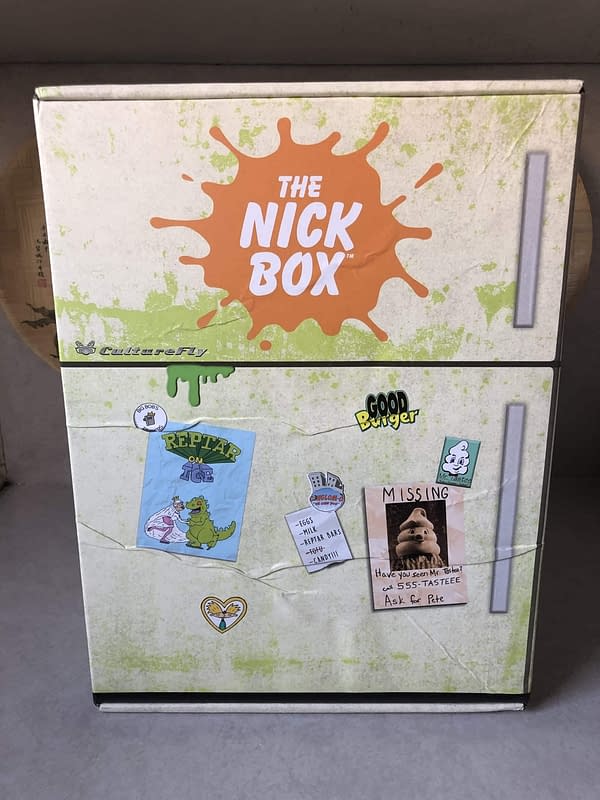 First off, before we get to the items in here, I want to point out the box for the design they went with. This is meant to look like a fridge and they went all out to make this look like something you might see int he old Nickelodeon Studios. Photos of old cartoons with orange Nick magnets, references to old TV shows in the food and green slime items you find inside, even material on top of the fridge. Most companies send out a box with a pattern and promotion drawn all over it, but these guys went the extra mile and I appreciate that kind of work.
The first item we got was a pair of socks. Yeah, I know, probably not what you thought we start out with, but these are a pair of socks from The Wild Thornberrys. There are blue and aqua dress socks with the design of sardines all over them, as they come in a "tin" box to match. I liked these, they're soft and flashy and make for a nice comfort sock to wear around the house. Probably not what I would call and all-day sock, but nice for lounging around.
Next we get a set of pins from Rocko's Modern Life as you have the Flu-In-U-Enza set of characters. If you're not familiar with these characters, they're from a specific episode of the show where Rocko is sick and seeing some strange things while taking cold medicine. Which leads to him hallucinating and meeting The Enchanted Upchucks, which is a piece of rotten cheese, a moldy piece of pizza, and a half-eaten hot dog. The enamel on these is great and I liked that they came with rubber stoppers on the back so it doesn't tear up clothing and skin when wearing it. A good set to have.
Moving on, we got a pair of Hey Arnold refrigerator magnets. It's from the episode where they're dressed up as different fruits for a play at school. There's not a lot to talk about with these, it's just Arnold and Geral in costume as magnets for your fridge. They work fine.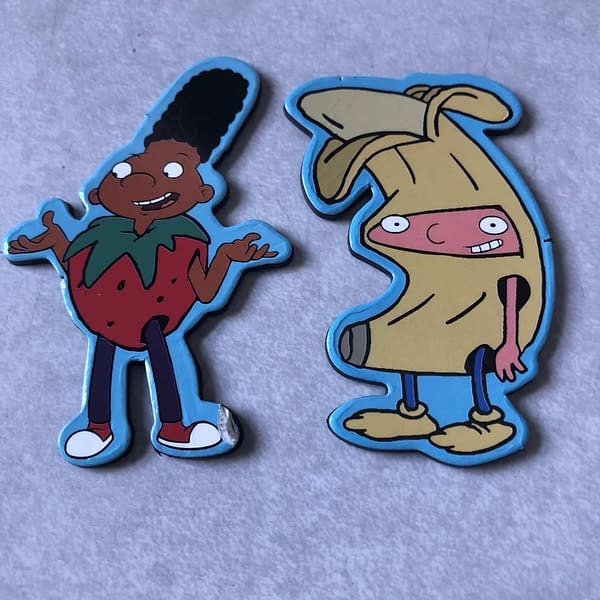 One of the oddball items that made me scratch my head was the Rugrats item, which was a Reptar On Ice kitchen timer. If you're not familiar with this, let me set up the premise. Reptar is their version of Godzilla, which all the kids love. And like all popular kids figures, they got their own traveling ice show. So the image you're seeing is that of the costumed Reptar and his in-show wife reuniting for their wedding. Now that we got that out of the way, someone thought this would be good to slap on an egg timer. The timer works fine, but man, this is the weirdest thing to put on top of it in all the pantheon of Rugrats.
Moving onto something from Good Burger, we got a squishy burger! This is exactly what you think it is, a squishy plastic hamburger for you to squeeze, much like a stress ball, with the film's logo on the top of the bun. Again, one of those items where there isn't much to it, but it makes for a cool little item to have on your desk to show off your love for Nickelodeon.
Another Rugrats item in The Nick Box was this cookie stamp set. This is a throwback item I haven't seen used since I was a kid. Essentially, you have a two-piece wood stamp that you attach a rubber design to on the bottom and cut cookies out with the design on the bottom. The three designs you get from the show are Tommy, Chuckie, and Angelica, which you can fashion into whatever cookies you see fit. I didn't have time to bake anything to test them with, but hey, I got a cool item to match the Reptar On Ice kitchen timer.
The best item for me, personally, came when I saw this awesome figure in the box. I got a Mr. Tastee vinyl figure from The Adventures of Pete & Pete. This is from a pretty famous episode where Young Pete asks Mr. Tastee about his past, at which point, he vanishes. Int he middle of summer, no less, leaving the kids in town without their tasty Blue Tornado Bars. This is a pretty awesome figure that they got down pact, all the way down to his swirl top. I got a kick out of this and it's probably my favorite item out of the whole box.
The next oddball item we got was another Good Burger branded thing, but this time it was just a pillowcase. A throw-pillowcase, no less. Everything about this makes very little sense to me. It's in the stripes of the uniforms, covered in burgers with the movie logo on it… but, why? And on top of that confusion, why is it just a case? Why no pillow included to fill it out? I'm just utterly confused as to who would want this.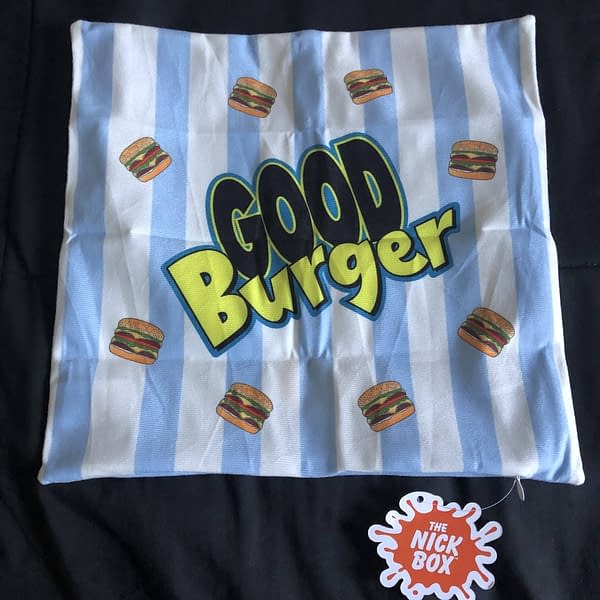 Finally, the big clothing item in here is a little something from Ren & Stimpy as we got a Powdered Toast Man apron! This is a pretty snazzy apron we got here compared to some others we've received over the years of reviewing boxes. (Yes, people like to send these in lieu of t-shirts.) It's thicker material than we've received in the past and it feels like it could take a beating against whatever food or dishes you happen to be dealing with at the time. A very cool item to add to my kitchen.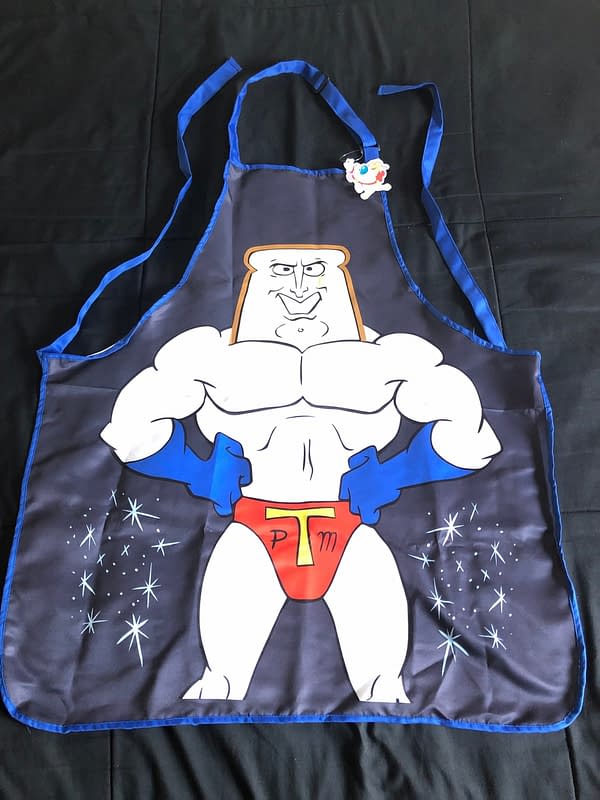 Overall, I enjoyed the Winter 2019 edition of The Nick Box. There were some definite winners in here, but also a lot of oddball items that made zero sense to get at the time. This is definitely a must-subscribe item if you're a fan of the network going back to the '90s. We'll see what the Spring 2019 box has to offer when it hits our doorstep in the coming weeks.