Wizard World Gaming Atlanta In January Cancelled, Will Debut In Portland In February Instead Wizard World Gaming is a new conventon schedule from Wizard World Comic Con concentrating on the gaming communities. It was to start with a stand alone show in Atlanta on January 22nd to 24th. But now Bleeding Cool understand Wizard World Gaming Atlanta has been cancelled and all tickets are being refunded.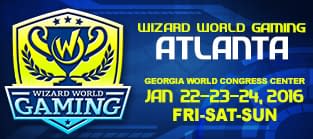 Instead the first Wizard World Gaming event will be as part of Wizard World Portland Comic Con from February 19th-21st, which will provide Gaming-only tickets as well as access-all-areas tickets.

Bleeding Cool understands that this is die to a number of booths and presentation from big name gaming publishers not being ready in time for the New Year. However, those who have booked travel and transport to Atlanta may not be as understanding.
Wizard World Gaming Portland will be followed by similar events in St. Louis in June, Minneapolis in May 6-8, Philadelphia and Sacramento in June, Columbus in July 29-31, Orlando and Chicago in August and Austin in September.