Zarvot is a Party Game with Incredibly Aggressive Cubes
Snowhydra games' action arcade adventury party game hybrid Zarvot puts players in control of aggressive cubes that are capable of firing lasers out of their cute little cube faces. So in party multiplayer, Zarvot is basically a third-person isometric PvP shooter. However, it does have a single-player story campaign. Where two cubes try to come up with a birthday present for their best friend. Which is pretty cute.
The Switch version of the game will have its own unique multiplayer mode called Joy-Vot where you can spawn AI bosses for your friends to fight.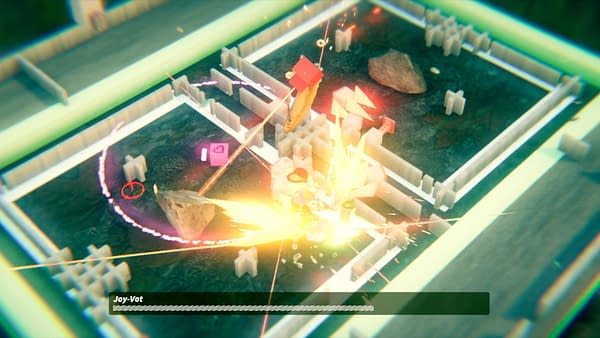 The mutiplayer PvP functions almost exactly like your usual shooter match, players have access to lasers, a knockback move, walls to use for active cover, and the ability to jump over opponents attacks. Its just a shooter with cubes and an isometric view. And because of that, it can be a bit brutal, depending on who you're playing with.
Key Features of Zarvot include:
Polished and tightly balanced competitive party game for 2-4 players.
Charming singleplayer campaign about two cubes putting together a birthday present to
cheer up their best friend.
Deep, intuitive cube gameplay in an ultra-realistic world.
Zarvot is slated to release on the Nintendo Switch this October.