Batman In Movie Starring Gal Gadot Is Best Batman, Says Gal Gadot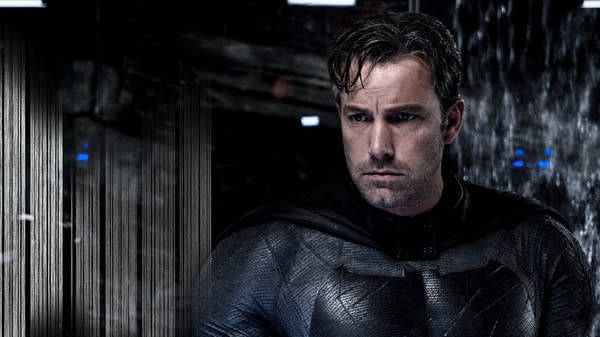 Ben Affleck, who plays Batman alongside Gal Gadot in Batman v. Superman: Dawn of Justice and Justice League could be Gal Gadot's favorite Batman, according to an interview with Gal Gadot on UK's Sky Cinema (via ComicBook.com). "He's one of my favorite Batmans, for sure – if not the best one," Gadot said of her co-worker.
Affleck is one of only eight actors to play Batman in a live action production, including Lewis G. Wilson, Robert Lowrey, Adam West, Michael Keaton, Val Kilmer, George Clooney, and Christian Bale. Gadot did not qualify whether her ranking of Affleck included Will Arnett, who voiced Batman in The Lego Movie and the upcoming Lego Batman Movie, Kevin Conroy, who voiced Batman in Batman: The Animated Series, or Sir Laurence Olivier, who reportedly cosplayed Batman at a Halloween party in 1964. However, Bleeding Cool is confident in saying that Affleck is definitely in Gadot's top ten or twelve Batman, even if Batmen from all mediums are included.
"I think that Ben is such a good actor," Gadot said, really laying it on thick, of Batfleck, with whom she will continue to star as part of DC's cinematic superhero universe. "Very, very talented. I think the interpretation that they gave Batman in this movie they wanted him to be more weary, more tired of life, more cynical, more dark. I think that Ben captured it in such a sophisticated way."
Gadot's comments are perfectly timed with rumors that Affleck may be having second thoughts about his role in DC's superhero universe, with the production of his standalone film, The Batman, possibly delayed. Could all of this flattery be designed to keep Affleck on the job? We have no real factual basis for suggesting that's the case, but since we phrased it in the form of a question, it's totes legit journalism.
Watch the video below: