Deleted Scene from 'Black Panther' has Okoye and W'Kabi Fighting About Killmonger
USA Today has posted the first deleted scene from Marvel Studios film Black Panther. The scene has Dora Milaje General Okoye (Danai Gurira) speaking with her partner W'Kabi (Daniel Kaluuya), and features a better look at their relationship.
Director Ryan Coogler has said this was a scene he was "incredibly proud of as a director but didn't work inside of the confines of our film", making us wonder even more about the reported 3 hour-plus director's cut.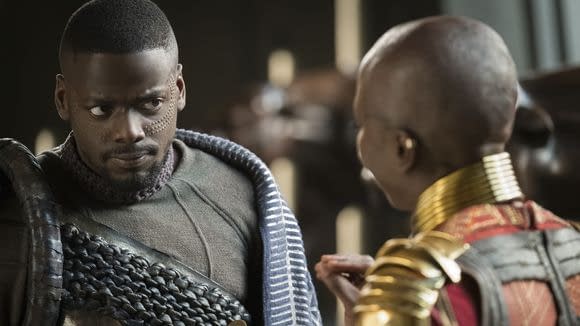 The scene takes place after King T'Challa/Black Panther (Chadwick Boseman) was 'killed' by Erik Killmonger (Michael B. Jordan) during the King's Challenge.
Okoye is mad at W'Kabi after he helped Killmonger gain entry into the Tribal Council room, but W'Kabi is equally pissed that T'Challa did not bring vibranium thief Ulysses Klaue (Andy Serkis) to justice.
"This is what you would have me leave the Dora for, to bring our children into this world where they become conquerors?" Okoye says.
"Yes," her husband responds.
"Our children will be leaders of a truly free world, not just a tiny country where we have to hide everything that makes us great. There will be war and death but in the end it will be beautiful. And Wakanda will stand tall," W'Kabi says as he embraces Okoye and kisses her forehead.
A wonderful scene that tugs the heartstrings for sure. Here's hoping we'll be getting more of these scenes when Black Panther hits digital on May 8th and Blu-ray on May 15th.