Blood Relatives Star Victoria Moroles on Noah Segan, Teen Wolf & More
Victoria Moroles has always had a flair for the supernatural with her work on Sleep Tight, the TV adaption of Teen Wolf, and Down a Dark Hall. Her latest is the Shudder dark horror comedy Blood Relatives, which follows Francis (Noah Segan), a 115-year-old Yiddish vampire who still looks 35. He's been roaming American backroads in his beat-up muscle car for decades, keeping to himself and liking it that way. One day, a teenage kid, Jane (Moroles), shows up and says she's his daughter and has the fangs to prove it. They go on the road, deciding whether to sink their teeth into family life. Moroles spoke to Bleeding Cool about how her character Jane is similar to Teen Wolf's Hayden Romero and working with Segan, who's the star, writer, and director.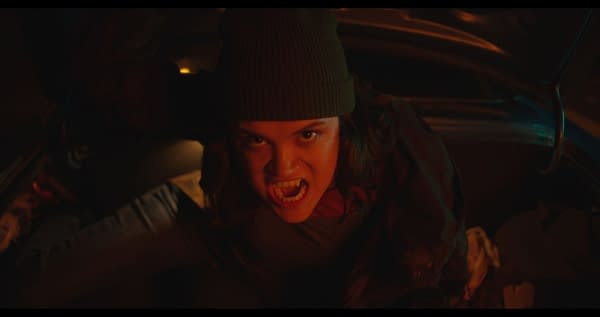 How 'Blood Relatives' Became a Learning Experience
Bleeding Cool: What intrigued you about 'Blood Relatives?'
Moroles: When I read the script, it was a fun, fresh take on a father-daughter story, and I loved that. Deeper into Francis and Jane's relationship, it was cool as the journey went on and this aspect of them being vampires and having to figure out how to live practically in the world is a plus.
Can we break down working with Noah [Segan] as a co-star and director?
This is my first time working with an actor-director. It was Noah's first time in both roles. It was a beneficial experience for both of us. What helped me get through that process was having a lot of conversations about where Noah wanted everything to go and what I wanted to gain beforehand. We had a lot of time to prep in the scope of two or three days before every single [filming] day, kind of running through everything, talking about the schedule and where we wanted everything to be. So whenever we got there, we were on the same page, had a lot of check-ins, and ensured we were on the right track. As far as chemistry goes, if you are open, trying, and wanting the same thing, you eventually get there. I had that from the beginning.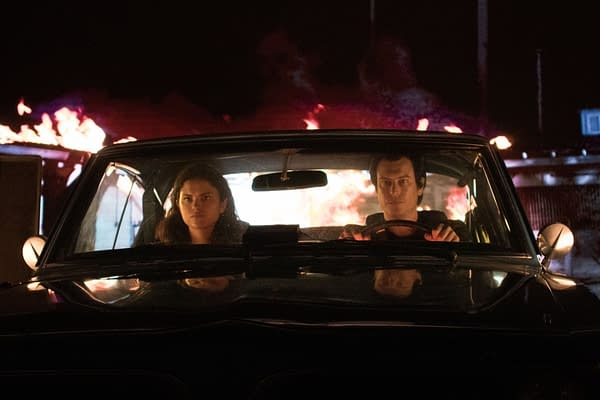 This isn't your first foray into the supernatural genre. How would you compare the world of 'Teen Wolf' to 'Blood Relatives?'
That's a great question because I feel like everybody generally clings to supernatural stuff together. I always love living and being able to do anything supernatural or fantasy world. The main difference for me working on a team in 'Blood Relatives' was pretty technical because 'Teen Wolf' was an hour-long TV drama that worked quickly. Regarding the writing and updating scripts, we sometimes got them the day before and so on. You had to accept this world they're living in and jump right into it every time we went to work.
With 'Blood Relatives,' I had six months before we started shooting. So I got to live in the States and kind of imagine. What it was like to be not only a vampire trying to practically live in this world but somebody who was growing up and having these newfound abilities, essentially. That's somewhere where 'Teen Wolf' and 'Blood Relatives' are connected as that in 'Teen Wolf,' I was essentially a science experiment. I discovered these abilities, and it was something new for my character and then also for Jane; she's doing the same thing. At the end of the day, they're pretty similar. It wasn't like they were just born with this; they immediately knew who they were.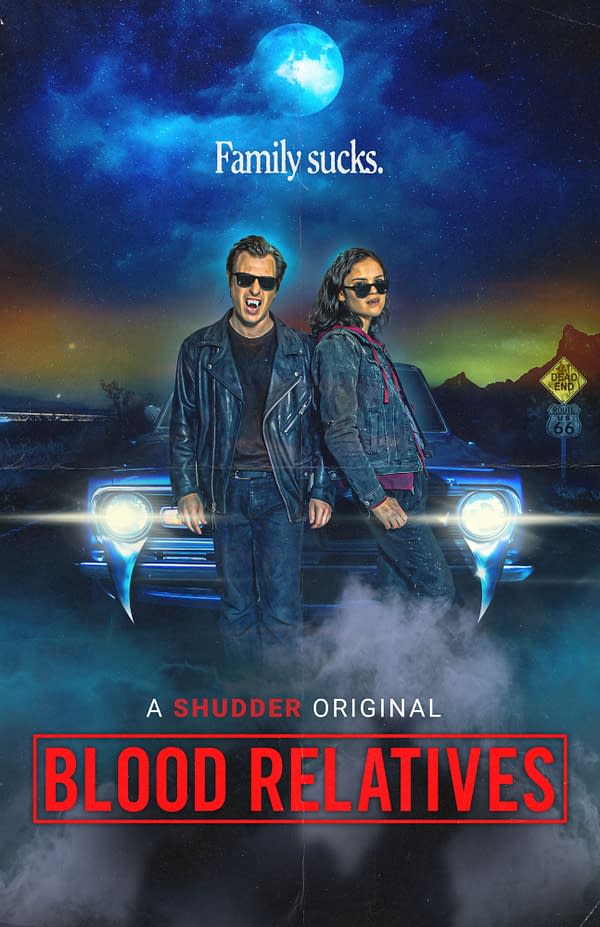 Given this dynamic your character Jane has experienced, was there anything you pulled from emotionally within your own life or a previous performance that helped guide you in this film?
I don't know so much about a previous performance. This was pretty different from anything I've worked on before, not genre-wise, I love doing horror and supernatural stuff working in that for so long, but this is different. Even though we lived in a horror world, it was still a dark comedy, so it was something new for me. The thing I loved about Jane when I first was introduced to her was this sense of emotional maturity at her age. She goes through this process of adultification when we meet her. She just lost her mom and has been on the road for a couple of weeks following this person who she believes is her dad. That's a lot for a 15-year-old, let alone all of these new things that are coming up for her. What I connected with most was probably her sense of independence at a young age.
Blood Relatives will stream on Shudder on November 22nd.