Booksmart director Olivia Wilde recently tweeted out a list of changes made to the film following a recent flight after someone mentioned an edited version of the film.
It's one thing to edit content for viewing on broadcast and cable television. It's another thing altogether to make substantial changes for people watching in-flight. Based on Wilde's reaction this week, the filmmaker certainly did not approve of these changes.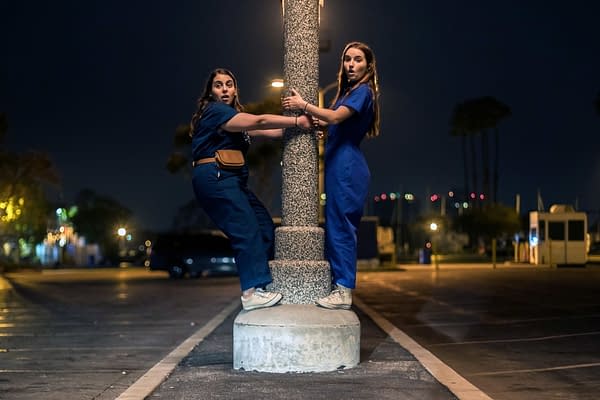 Wilde posted a thread about the changes
I finally had the chance to watch an edited version of Booksmart on a flight to see exactly what had been censored. Turns out some airlines work with a third party company that edits the movie based on what they deem inappropriate. Which, in our case, is … female sexuality? 🤔

— olivia wilde (@oliviawilde) October 30, 2019
First of all, in order to select this movie from hundreds of options, you have to agree to a "parental advisory" that warns you that viewer discretion is advised. Once you click "proceed" it seems like you've agreed to watch the movie in its original form. Instead…

— olivia wilde (@oliviawilde) October 30, 2019
— They muted or cut the word "vagina." VAGINA.
— They removed Molly's entire scissoring sequence. (No scissor emoji?! Thread for another time…)
— They Molly's masturbating and UTI story (it didn't end well).
— They cut the porn moment in the Lyft (our Oscar clip).

— olivia wilde (@oliviawilde) October 30, 2019
— They cut the second half of the animated doll sequence — because naked doll bodies – made for children – are too shocking even with no genitals. Speaking of which, they cut the word "genitals."

— olivia wilde (@oliviawilde) October 30, 2019
— Most disappointingly, they cut most of Amy and Hope's love scene in the bathroom, which involves zero nudity, but does involve an essential plot point for a lead character. Wtfffff.

— olivia wilde (@oliviawilde) October 30, 2019
By the way, they didn't cut ANY cursing. Every "fuck" is heard loud and clear, sometimes in the same scene where they muted "vagina." 🤯. They showed George (elegantly) deep-throating a microphone but couldn't stomach a consensual love scene between two women.

— olivia wilde (@oliviawilde) October 30, 2019
What message is this sending to viewers and especially to women? That their bodies are obscene? That their sexuality is shameful?

— olivia wilde (@oliviawilde) October 30, 2019
I urge every airline, especially those who pride themselves on inclusivity, to stop working with this third party company, and trust the parental advisory warning to allow viewers to opt out if they choose.

— olivia wilde (@oliviawilde) October 30, 2019
Booksmart wasn't the only film with LGBTQ content to be edited. Rocketman also had scenes removed according to the Advocate. EW digital director Shana Krochmal posted a Twitter thread. One can only wonder how many other LGBTQ-skewing films are targeted. The average comic book movie, which can get violent at times, are likely to be unchanged. The funny thing about this is that anybody can watch unrated films on their tablet device should they decide to do so.
This is one of those things that has every reason to make a filmmaker angry. Dan Mirvish, a filmmaker, and co-founder of the Slamdance Film Festival shared his thoughts in Filmmaker Magazine. The paywall is expected to come down soon but in short, the matter is more complicated than any of us might think.
For the same reasons as filmmakers like Judd Apatow is upset at Netflix adding a feature to speed up and slow down content, filmmakers should be upset when their version of a film is edited without their approval. Based on Olivia Wilde's thread, many of these edits substantially change how the film gets viewed. Kaitlyn Dever plays a lesbian and the whole subplot got removed altogether. I'm sorry but this is completely unfair. I say this not just as a film critic but as a transgender woman and aspiring filmmaker. That's right–when I'm not watching a gazillion films and writing about them, I'm working on my own trans-led comedy script. God forbid that most of whatever film I end up with ends up getting edited down to a product that I couldn't support.
Enjoyed this article? Share it!