Confess, Fletch Has a Fan In The Sandman Creator Neil Gaiman
When he's not politely putting down silly people who think he's responsible for Lord of the Rings: The Rings of Power on Twitter, The Sandman creator Neil Gaiman found a chance to endorse a movie that gave him joy: Confess, Fletch, the mystery-comedy starring Joh Hamm and directed by Greg Mottola. Then he was doubly happy to be told that all the original Fletch novels by Gregory MacDonald are now free to Audible subscribers as part of a promotion for the new feature film.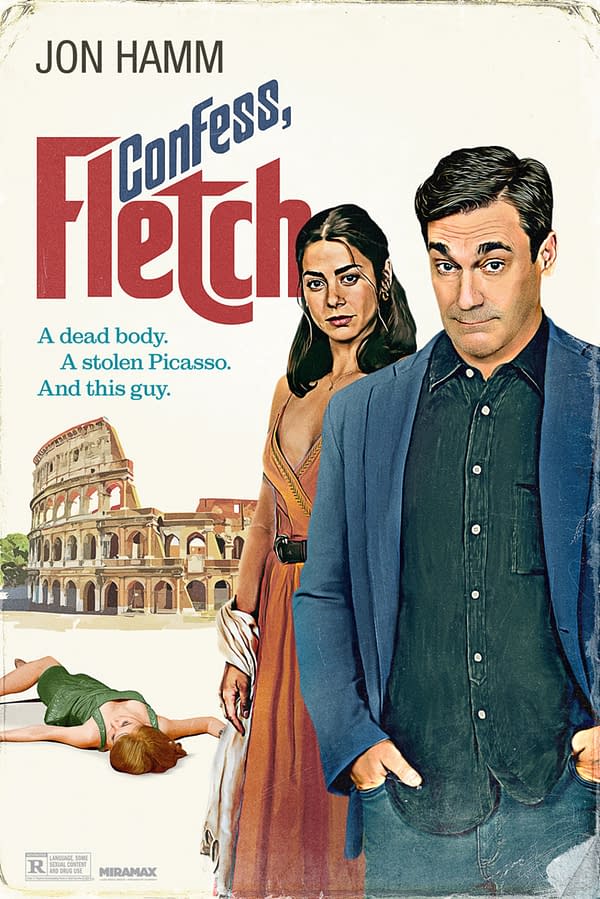 Confess, Fletch is a fun and breezy update of the second Fletch novel where Hamm plays Irwin "Fletch" Fletcher, a former veteran turned journalist who has to clear his name of several murders he stumbled on while tasked with investigating a stolen art collection. Oh, and to avoid getting 1) arrested by the cops, and 2) murdered by the real killer himself. Fletch is the archetypal wisecracking amateur sleuth, not a two-fisted tough guy but an inveterate smartass who's always two steps away from getting the crap beaten out of him if he says the wrong thing, and he's always walking that very thin line. He can't carry a gun, so his only weapon is his wit. Jon Hamm and Greg Mottola are fans, as is Neil Gaiman. Anyone who loves classic crime fiction from the 1970s and 1980s would know about Fletch.
"I just watched Confess Fletch, and found myself wishing that Gregory McDonald were still alive to see the film of his book. It's an adaptation done by people who understood and loved the Fletch books. Funny and so sharp," tweeted Gaiman.
Jon Hamm gave 60% of his salary for the movie so that the production would have the funds it needed to buy a few extra days of filming they needed to make the movie better. Chevy Chase starred in two Fletch movies in the 1980s, the first was a well-liked hit, and the second was said to be terrible.
"Jon's a fan," tweeted Gaiman. "He made it for love."
Then someone pointed out that audiobooks of all ten Fletch novels, including Confess, Fletch, and the four spinoff Flynn novels by MacDonald are now free to Audible subscribers, prompting shock and joy in Gaiman.
So now we have both a fun comedy-thriller and complete series of books in audio to enjoy, happily endorsed by Neil Gaiman, who has impeccable taste, including not taking on the insane responsibility of producing, writing, directing, designing, and starring in Lord of the Rings: The Rings of Power, despite what very silly people who don't understand how the world works believe.
Confess, Fletch is now on VOD. The complete collection of Fletch and Flynn novels is free for Audible subscribers now.