We're still pretty excited about the news that Stranger Things and Hellboy star David Harbour is being touted for the upcoming Marvel Studios solo Black Widow film. No, we have no idea who he'd possibly be playing in the flick, or if it'll even work out (even though some of the big-boy outlets seem pretty sure it's a done deal).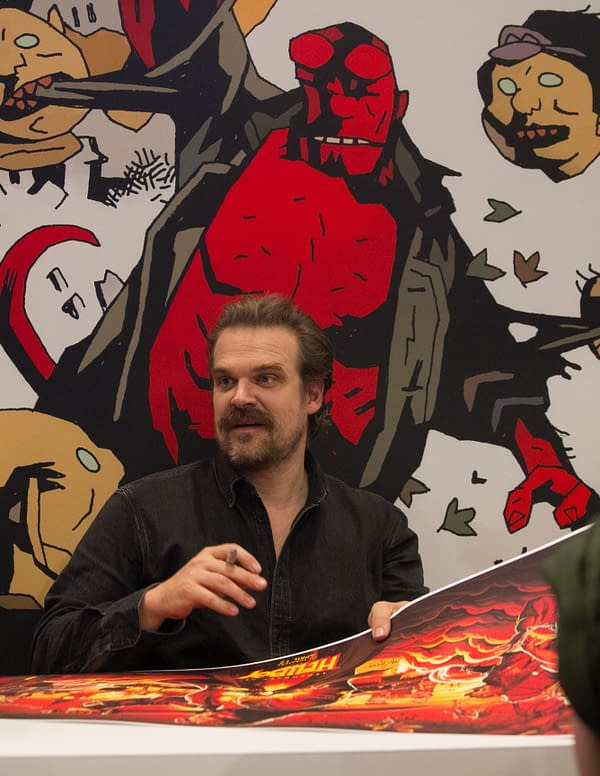 Entertainment Tonight just caught up with Harbour in Las Vegas during this week's CinemaCon event (you can check through our coverage for highlights, footage descriptions, and additional tidbits), and asked him about the Marvel-ous news.
"Yeah man, like I want to do the movie. [Marvel would] kick me out so fast…[if I reveal anything]. Look here's what I will say. It's being directed by this woman Kate Shortland who is a phenomenal director. She directed a movie called Lore. She's a phenomenal director, so what's really exciting to me about it is it's gonna be like a real deep, interesting film. And so yeah, I'm just excited for it as a film as well as a superhero movie.

It feels like a lot of pressure to get to the gym. I don't love working out, I have to tell you it's like not my favorite thing. I really enjoy sitting on a couch. But now that you become 'action star of the year' [quoting ET's Kevin Frazier, interviewer] … it probably means you have to work out year-round not just when you're doing a movie.

Yeah, she'll [Scarlett Johansson] be in far better shape than me, but that's fine."
So, sounds like it's NOT a done-deal yet, but we're hopeful.
See Harbour in Lionsgate's Hellboy when it hits theaters on April 12th, and again in season 3 of Netflix series Stranger Things on July 4th (seasons 1 and 2 are currently streaming on the service).
Enjoyed this article? Share it!