Deep Blue Sea 3 is coming home to Blu-ray as a combo pack with a DVD and digital code on August 25th. The film stars Nathaniel Buzolic, Emerson Brooks, Bren Foster, Reina Aoi, and Alex Bhat. This is the second sequel to the Samuel L. Jackson original from 1999, though he is nowhere to be found here, obviously. The release won't have a ton of special features on it, with two featurettes basically being it, but plenty of shark action for sure. You can check out the trailer for Deep Blue Sea 3 below.
Deep Blue Sea 3 Details
"Emma Collins, an eminent marine biologist, and her crew have set up a mid-ocean laboratory over a sunken island town in the ocean where they are observing the first known Great White mating area. Unfortunately, the enhanced Bull Sharks that escaped in Deep Blue Sea 2 are also there with their own evolutionary goal: cross-breeding with the bigger faster Great Whites. The mission's patron, Richard Lowell, believes that the Bull Sharks contain the key to intelligence enhancement, which he secretly intends to sell for big profits. Now, Emma and her crew are trapped on crumbling stilt houses mere feet over the ocean, caught between predators above and below the water.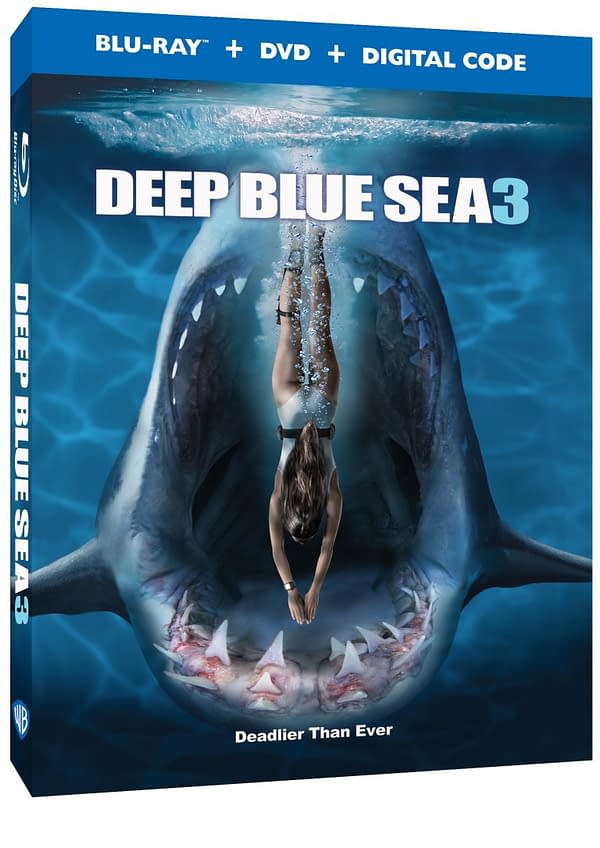 The film stars Tania Raymonde (Lost, Goliath) as Emma Collins, a marine biologist who is committed to making the world a better place and Nathaniel Buzolic (The Vampire Diaries, Hacksaw Ridge) an ex-boyfriend who has chosen money over ethics. Other cast includes Emerson Brooks (MacGyver), Bren Foster (The Last Ship) and Japanese star, Reina Aoi as Miya, a grad student who is part of Emma's small research team that is working on an island sinking in the Mozambique channel."
Special Features and Technical Specs:
Deep Blue Sea 3: Fight to the Death
Sinking Sets and Sharks: Making The Film
Optional English subtitles for the main feature
Enjoyed this article? Share it!