Figures, Comics, and Posters- What's Inside the LootCrate Anime Box?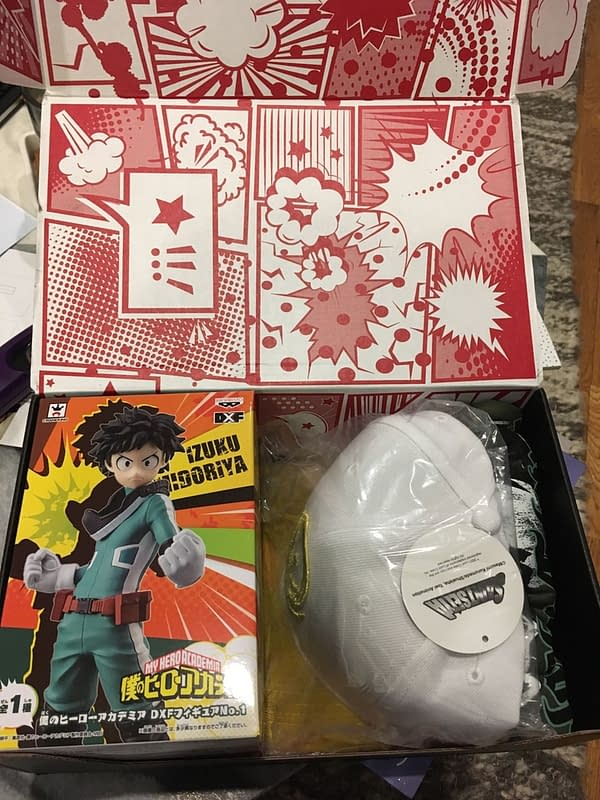 LootCrate has expanded their reach outside of gamers, because nerds of all types love subscription box services. I mean, honestly, who doesn't like getting a bunch of stuff in the mail? That said, Anime is a pretty massive range of interests to cover, so the likihood that you'd get something for an anime you've never even heard of could be quite high. But LootCrate knows what they're doing.
The LootAnime box shipped to my door this month is actually December 2017's box, as it came with a statue of Izuku Midoriya from My Hero Academia, a Saint Seiya cap, Black Clover t-shirt, a free comic, and even a couple of posters. Sure, none of my favorite anime shows were involved in the contents of this box, but that's alright. What I did get is some good quality fan material.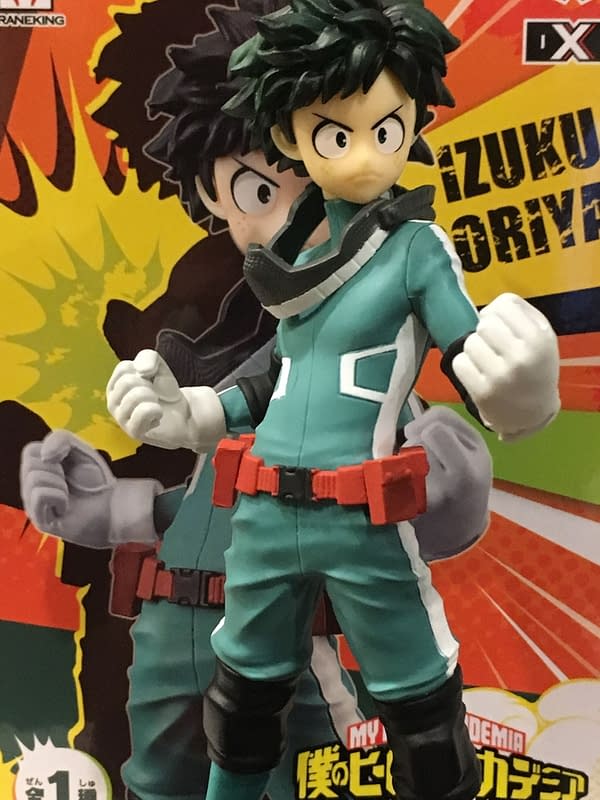 The statue came in four pieces, the base, head, mask, and body. The sculpt on the statue is very solid, and Izuku will even stand on his own without the base, though he is a bit wobbly. The arm's aren't attached super smoothly, but they do come as one piece with the full body, and it's only a minor issue. The striping accents on his tracksuit are pretty great overall, though there are some small places where the white paint was applied a bit too thin, especially over the creases on the legs. And while you can't get his mask to fit properly on his face, it does rest nicely around his neck with only minor adjustments.
The statue was manufactured by Banpresto for LootCrate and is a special edition available only to LootAnime subscribers. It's worth quite a bit on its own if you check the current eBay and Amazon listings, so getting it as part of the box subscription for under $30 USD is pretty damn nice.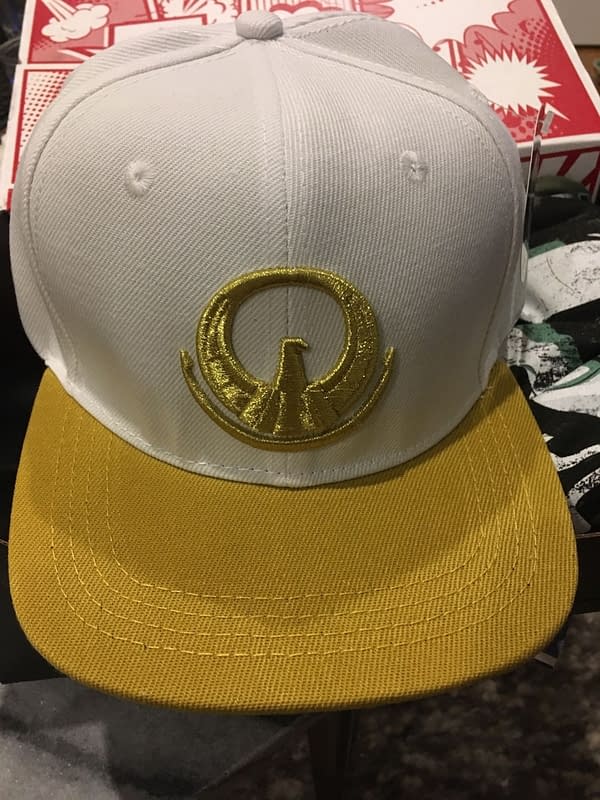 The Saint Seiya cap's white and gold, which makes for a pretty terrible combination in photos as evidenced by that dress which was actually black and blue. The front motif is based on the staff wielded by Athena, while the back sports the Japanese Saint Seiya logo. That said, the hat is your typical baseball cap with an adjustable plastic snap at the back and a stiff cardboard brim. This one is a LootCrate exclusive, which is a nice touch.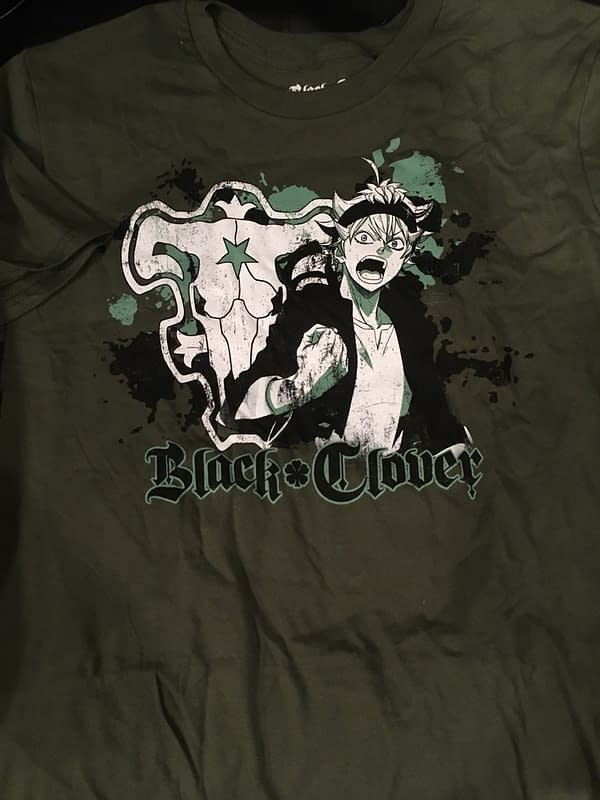 The t-shirt is a men's size, because apparently LootCrate only do "unisex" sizes, which means Mens. And that is fine, but make sure you size yourself accordingly while filing out the subscription information. It's a pretty decent quality crew neck t-shirt, not too stiff or scratcy, but soft touch cotton with double-stitched hems. So it should be able to handle some decent wear. Again, it's a LootCrate exclusive.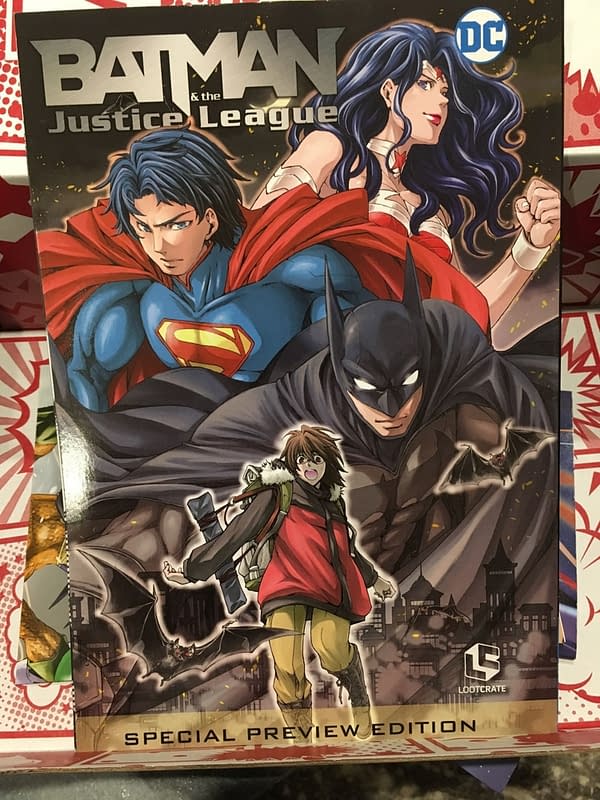 And then there's the manga. Which is sized like a traditional American comic book and features DC's Justice League. This one is a LootCrate special preview edition of the manga which follows the story of a young Japanese boy trying to find his parents who were presumably killed in a science experiment gone wrong. He journeys to Gotham City in his investigation and runs into Batman along the way. Cyborg, Green Lantern, Aquaman, Wonder Woman, Superman, and the Flash all make appearances as well. As is traditional for manga, the book is bound on the right side and you read from right to left. The story and art are both by Shiori Teshirogi with the translation coming from Sheldon Drzka and English lettering by Deron Bennett. The art is pretty interesting given that it is very much Japanese anime style art and it features Batman. So yes, he has super long bat ears. Most of the page layouts feel very traditionally manga, but there are some bits of Western comic tradition thrown in as well. It actually makes for a pretty fascinating read.
And then we have the posters. One is of the back cover from Batman and the Justice League, featuring, naturally, Batman and the Justice League. The other is an illustration by Xeph of Collateral Damage Studios.
The posters aren't sized to easily fit into picture frames, but you can work some magic with an Ikea frame, penknife, and a ruler.